The Royal Bopsters feat. Sheila Jordan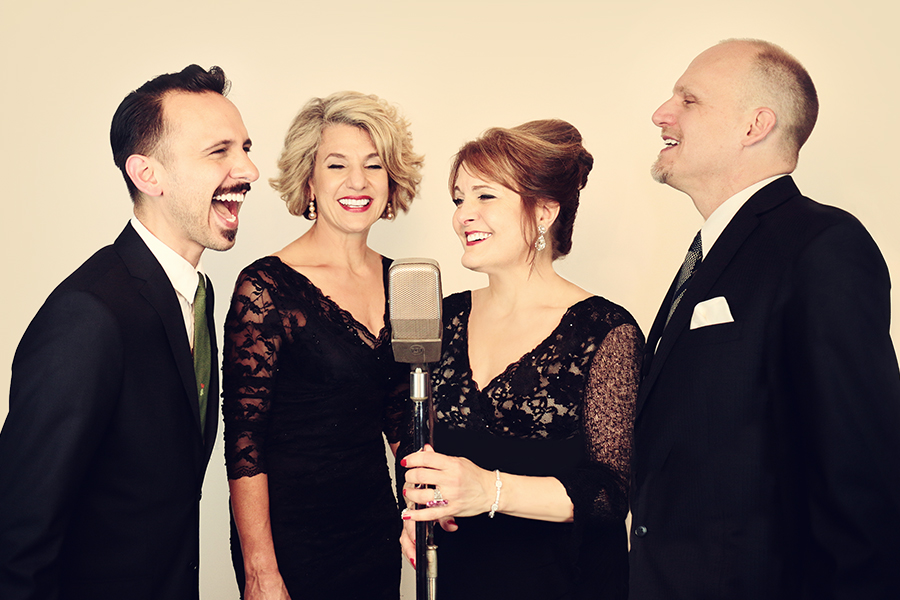 The Royal Bopsters, featuring NEA Jazz Master Sheila Jordan performed at the Jazz Forum on Friday, March 9 and Saturday, March 10 at 7 and 9:30 pm on both evenings. A multi-generational jazz vocal quartet made up of NY's top jazz singers and jazz educators, Amy London, Holli Ross, Pete McGuinness and Dylan Pramuk combine their creative talents to bring swing and bebop to the forefront for generations ahead.
Sheila Jordan
Salina: How did you come upon signing?
Sheila Jordan: Well, I have been singing since I was about three years old because I had a very unhappy childhood. And the only thing that made me feel good was singing. If I would sing, I would feel better. And my grandfather used to call me Little Song because I was always making up songs and singing because it was not an easy childhood. I didn't know what kind of music I wanted to sing, but they had great tunes out in those days. I mean, I'm going to be 90, so I go back a long time. At that time, all the Irving Berlin and George Gershwin and all those tunes were just new, so they were great tunes at the time. So, we'd get the sheet music, not the sheet music, but the book with all the lyrics in it. And we had a radio sometimes unless the lights were turned off for not paying the bill, and I would learn as quick as I could the melodies, and then I would see the lyrics, and I would start singing these tunes.
I never knew what kind of music I wanted to sing. The kids in school would make fun of me, but they always had me sing at the PTA meetings and different things like that that would go on in school, and of course, the kids would be bowling, and they'd be jealous or whatever reason. And I still sang. I had to sing.
So, I never knew what kind of music I wanted to sing. Then at 14, I moved to Detroit to live with my mother because when she had me, she was only about 17, so she was very young and couldn't raise me, so my grandparents raised me in Pennsylvania. When I moved to Detroit, I never knew what kind of music I wanted to sing. I'd been singing on radio shows for kids and stuff like that. But I went across the street when I was in high school and I saw this thing — Charlie Parker and his Reboppers — and I said, "Oh my God. I'd like to know what that sounds like." I put my nickel in, heard four notes and said, "That's the music I'll dedicate my life to." It was Bird. And it's been Bird ever since. Of all the beautiful singers, Lady Day, who I loved emotionally, and Sarah with this glorious voice, and Ella, who could scat like no one, but my influence was Charlie Parker. I loved his music so much I married his piano player, Duke Jordan, years later. So that's how it all started for me. And as it relates to singing with the Bopsters, I've only been singing with them for well over a year or so now.
They have me as a guest artist. They're so great, I don't think they need a guest, but they seem to like me and like me to be part of it, so I'm very honored when I can do it. You know, they're just incredible. So I say, "You know, you really don't need me. You're all so wonderful." I love singing with them, but I don't really feel they need anybody else. They have it covered. I mean, the song they just did, "Daydream," without any accompaniment at all. That a cappella piece. How beautiful as that?! So, I'm just saying I'm honored to be a part of their group when they have me.
Salina: What would you like to say to your fans?
Sheila Jordan: I would like to say to my fans, anybody out there that has a desire to do music or whatever you have a desire to do, don't give up. Don't give up, no matter how long it takes you, don't give up. Keep it alive. Don't leave it. Because if you leave it and you try to come back years later, it might not be there for you. So don't give up. Find a way to do whatever your art is. If it's music, find a place to play. I found a place. I worked in an office all day until I was about 62 years old, but I always found a place to sing.
I sang two nights a week at a club in the village called The Page 3, and when I started to get little tours, I had a great boss and he'd say, "Go when you need to go." He was great. But even if that didn't happen, I had the kind of a thing where I could do part time work for a part time agency. I was involved with the day job because I had a kid to raise by myself, so I needed to pay the rent and make sure that she had clothing and was able to get by. But I would say again in closing, whatever your dream is, don't give up. Really. It's there and just keep working on it. It will be there, but you can't give up. I didn't. I'm 90 years old and I'm singing more now than I ever did in my life.
Salina: What do you think about the club?
Sheila Jordan: I love this club. I love Ellen. And I love Mark. I just love him and think he's cool. He's a great musician and he knows the music. And this is what you call a real jazz club.
Salina: And why do you say that?
Sheila Jordan: Because everybody listens. They're respectful. And he makes them be respectful, as does Ellen. And they've got great food. It's a great club.
Amy London
Salina: What would you like to say to your fans, Amy [of the Royal Bopsters]?
Amy London: If you didn't come out to hear us, we wouldn't be able to perform. So thank you for getting dressed up all pretty, getting in your cars, coming out, and putting the money down to come here to hear jazz music live when you could be home in your jammies and sweatpants watching TV for free. We appreciate you. Without you, we wouldn't be here. So thank you and thank you for supporting jazz, America's own classical music. The music of the immigrant.
Salina: And the club?
Amy London: I love this club. I've known Mark and Ellen since the old early days when Mark had his loft in the city. And I was so delighted to know that they opened this here in Tarrytown. It's a beautiful club. They are wonderful people. Aside from Mark's excellent musicianship, it's so great to come up here. This is my 10th time here because I've come up to hear other musicians so many times. I love it here. It's great. It's a beautiful place. Good food. Wonderful people. So we're so happy to be here.