The Christian Sands Trio (Christian Sands, Russell Hall, Jerome Jennings) played at the club 11/23/18 and 11/24/18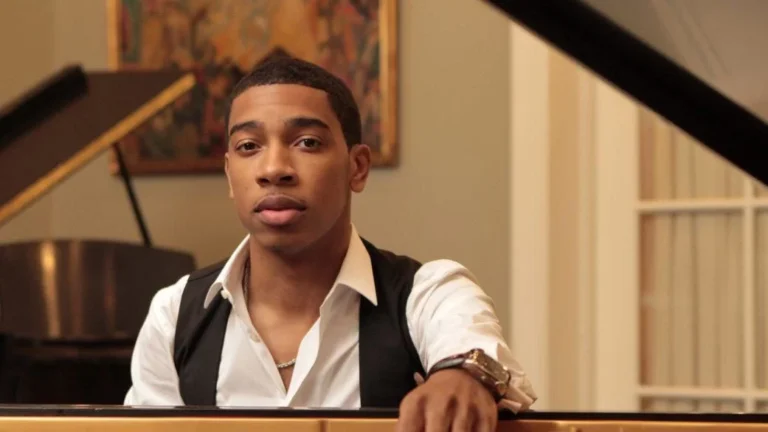 Christian Sylvester Sands, born May 22, 1989, is an American jazz pianist. He grew up in Connecticut and started taking piano lessons already at the age of four. Read our previous interview with Christian Sands, from February 2018, here.
How did you come to play the piano like that?
I'll try to make it short. A friend of the family who was actually the music director for our church when I was a child, well actually when I was born, told my mother and father to put me in piano lessons when I was a few months old. So I started lessons technically when I was about three years old. This family friend knew something before everybody else did, apparently.
When did you start gigging professionally?
When I was about seven. I was the only seven-year-old in bars (laughing)…playing in different kinds of spaces, not necessarily nightclubs, but the lounge areas. And I did a lot of society gigs — weddings and things like that.
What would you like to say to your fans?
Just keep being you. That's what the music's all about. The music's all about honesty and being who you are and being the best of who you are.
What do you think about the club?
The club is great. It's always fun. Everybody that comes here brings great energy and a great vibe to the place, so I always love playing here. It's amazing.
How did you come to play the bass?
I got into playing the bass through the Dillard High School for Performing Arts in Fort Lauderdale, Florida, where I went to school for four years. Originally, I was an actor, and then my drama teacher — her son was going to the high school that I eventually ended up going to — she said I should audition for the jazz program and the drama program, but then they convinced me to just do the jazz program. That was the first place I started playing the double bass and learning about people like Thelonious Monk and Charles Mingus and Duke Ellington and Miles Davis. That's really how I first got into it. I had just turned 14. I had played electric bass before that, too, in rock bands and stuff with my friends, and funk bands and church.
When did you start playing professionally?
I didn't know I was gonna go pro until the winter of my freshman year of high school. We had no cable, no Internet, and I just had these CDs and DVDs I had borrowed from the library. And I had this bass sitting in the living room, and I was like, "Okay, it's time to learn this thing." I realized after those two weeks of winter break that this was my destiny.
What would you like to say to your fans?
Whatever the most high spirit is to you, whether it's Jah, Allah, Yahweh, the flying spaghetti monster, whomever you choose to worship or whomever you choose to give love and praise to, let that be a guiding light in whatever you do, and use that spirit to emanate love and let it manifest itself into the world.
What do you think about the club?
I love it. It's been very nice playing here. The food has been lovely. The vibration is good because it's run by an artist, you know, so you get the respect and love that you deserve as an artist because an artist understands. It's different when you're dealing with a corporation or dealing with people who have an idea of what jazz is. There is an actual jazz musician running the place. You get a very familial, warm energy from being in a place like this.
How did you come to play the drums?
I come from a musical family that doesn't play music. Like nobody plays, but my brother played trumpet. I'm a product of music in schools. When they said pick an instrument, I wanted some drums. Actually, Sheila E. is the reason why I started playing. I saw her on the Arsenio Hall show. Remember that show? My dad used to let us watch it because Arsenio's from Cleveland, Ohio. My dad was like, "Watch this. This is a good role model for Y'all." You know, imagery. I saw Sheila E. playing and I was like, "I've got to play drums!" I was probably eight or nine. And then when I was 10, I got to pick an instrument in school, and it was drums all day.
When did you start playing professionally?
I've been playing professional gigs since I was 14.
What would you like to say to your fans?
Just keep listening to the music, and I hope you enjoy it. Keep buying the recordings and supporting the music.
What do you think about this club?
I love this club. People come to listen, and like Russell [Hall] was saying, the owner is a musician, so he really knows the music, and he understands what the real thing is and what the fake thing is. I'm glad he has us in here. It's a compliment.