The Steve Turre Quintet played at the club 12/21/18 and 12/22/18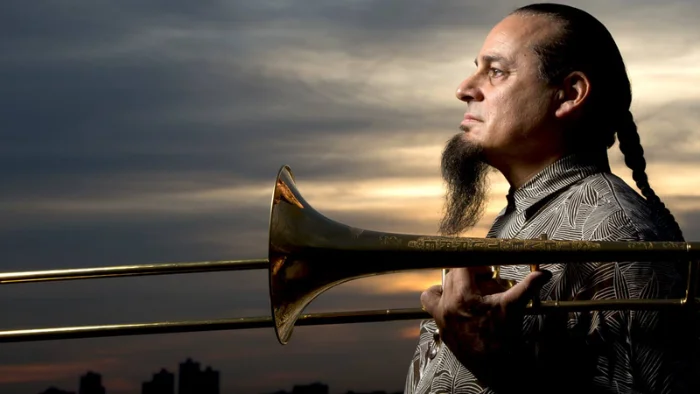 One of the world's preeminent Jazz innovators, trombonist, and seashellist, Steve Turre has consistently won both the Readers' and Critics' polls in JazzTimes, Downbeat, and Jazziz for Best Trombone and Best Miscellaneous Instrumentalist (shells).
How did you come to play the trombone and the conch shells?
I've played trombone since the fourth grade, in the school band, that's when I started. And then in 1970, when I was 18, I started working with Rahsaan Roland Kirk when he'd come through town. I sat in with him, and we became friends. That was in '66. Then in 1970, he came through and I did a week with him in San Francisco. He had a shell with him, and he would just hold one note on it because he liked different colors of sound.
I loved the sound of it – it was so cool. So afterward, I asked if I could try it, and he let me, and I said, "Man, I'm getting one of these." And that was in 1970. I got my first shell and that's how it happened. But then I discover putting your hand into it and all that — that's all my thing.
Then I found out that the shell and the animal horn are the roots of the brass because you make the sound by buzzing your lips, you know. So before we had metal to make instruments like that, people played shells and they played animal horns. So it's ancient. It's the roots of brass. So it's a connection.
What are your thoughts about the future of jazz?
Only time will tell.
What do you think about the club?
Beautiful. I love the place. Great audience, and you know, it's got the vibe.