Matt Wilson's Honey & Salt played at the club on 2/8/19 & 2/9/19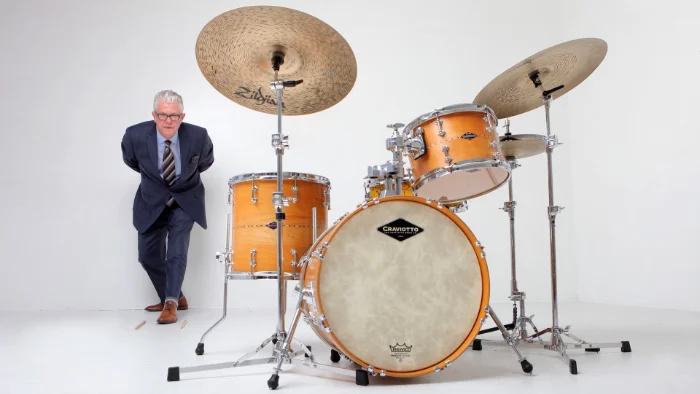 Drummer Matt Wilson combines buoyant zeal, idiosyncratic style, infectious humor, joyous swing and an indomitable spirit of surprise.
How did you come to play the drums? And then how did you morph from just playing the drums to the kind of performance you gave this evening?
That's a great question. I grew up seeing a lot of music. My parents weren't musicians, and they weren't jazz fans, per se, but we had a lot of recordings around. There was an episode of the "I Love Lucy" show in the early seventies where Buddy Rich was a guest on the show. He was going to judge a drum contest that Lucy's son, Ricky, was going to be in. I saw Buddy play the drums and he was great.
Then I would see them drums on different shows or just drummers in general on shows, and I was drawn to them. I was in the first or second grade at the time. I had a friend who was also a farm kid, and we would get together and listen to records – I'd bring records and he'd bring records. His parents belonged to the Columbia Record Club, and they had this Max Roach versus Buddy Rich record. On that record, Buddy dazzles you with what he could do. Mr. Roach plays with the basic accompaniment like I did tonight on the blues, and then he also, it just seemed, played over the form of the song, which I didn't know that's what it was, but I liked it.
It really stuck out, and my ears just perked up. With the same buddy, my friend Buddy, he's a doctor now, we saw the Basie Band together, we saw Buddy Rich's band together, and we met Count Basie and Freddy Green together in a high school gymnasium in a small town in Illinois. Within one week, dig this, we went 50 miles north of our town to the Quad Cities and saw Clark Terry; we went 60 miles south of where we grew up to Macomb and saw Dizzy Gillespie's Quartet with Tommy Campbell, Ed Cherry, and Bob Cranshaw. Three days later, we drove down on a Friday night to the University of Illinois and saw Oscar Peterson play solo piano. I was 15 or 16 at the time. We found out about these things in our local newspaper. Then my parents took me to everything, drum workshops and everything.
My middle brother, he passed away a couple of years ago, but he was a scenic designer. Him and his wife were both scenic and lighting designers in St Louis, so we did theater stuff a lot as a kid, so the performing thing always went hand-in-hand to me; it wasn't separate. And even now, I always say to my students and people, and I didn't coin this phrase; I borrowed it from different sources.
But I always say, "We have plenty of jazz players. We need more jazz performers." When we look at these posters here in this club, when you have Lionel Hampton and Sonny Rollins and Milt Hinton — they were performers. We knew their personalities. We knew what they played, and we knew their artistry and the majesty of what their expression was, but we also knew that when we would go to see them, we were going to be entertained.
And entertain is not a bad word to me. Entertain means you're being gracious. When you entertain someone in your home, you offer them food, beverage, comfort — the same way in a performance. I also like to surprise people, and as you've probably noticed, I really like to challenge people, too. I feel like people come to a jazz performance to have all that happen. Comfort, knowing some things that they know, and also to play some things that they don't know. A jazz listener wants to be surprised, I believe. So I never change what I do for any venue or any location in the country.
What are your thoughts on the future of jazz?
Well, I have to say we're busy, my friends and I. We're going all over the place, so somebody is wanting to hear the music. The way I look at this, too, is that we can have screens and we can do all of this stuff, but nothing replaces human moments. Whether it's live theater or art museums, you've got to experience it. It's a community coming together, sitting in a place, enjoying it, seeing it, and witnessing something going down.
Maybe even and not even everybody liking it, but they're all there sharing something. Like everything, we have to adjust how we offer what we're doing. I had a great visit with my doctor the other day, and he was talking about how he's had to shift his practice. He wants to be able to be with people, so instead of having to go with a hospital form, he has like a membership thing. He says we can't do it like we did 20 years ago. His father had that practice, and he wants to continue that kind of homespun vibe in our neighborhood. It's the same way with music.
We've had to adjust, so I think venues like this, the great classic venues, house concerts, college events, and everything are really great. We're working all the time. I mean, I'm not buying a Tesla tomorrow, but I make it, and I teach a lot. I think what's nice for me, too, is that I reach and am around a lot of generations. I've had a chance to play with a lot of the great veterans of music, and then my peers, and now I play with a lot of young people. I know all the young people because I teach so much, so I know all the really great young people out there playing. So I think it's very healthy.
What do you think about the club?
The club? We need more places like this. Here we are in this area, the Hudson Valley. I live in Orange County. And what do you have in Orange County? You have all these towns — Monroe, Chester, Washingtonville, Newburgh, Middletown, Harriman. If they were in Europe, every one of those towns would have its own jazz festival — small or big — and it would be a place where people could come together. They don't have to be the biggest acts in the world, just something that brings people together. When you have a place like this in a neighborhood, it brings people together. My dear friend Joe sample said to me, "You know, jazz started dying when it left the neighborhood."
That's true because all the neighborhoods when I was in Brooklyn had organ trio clubs and cats would come through. Trane played in my neighborhood, and it was no big deal. He was John Coltrane. He played at the Bamboo Lounge in Brooklyn. When those places started disappearing, jazz started going to another place. We need to get jazz back on a local scene to build young audiences so they understand the fundamentals of the music.
People get out of school now, and I ask, "What are you going to do?" "I'm going to have my own band and go on tour." Really? What about the dues-paying part of it where you really learn? If you don't have that, you can't make it as a leader.