Nilson Matta & Brazilian Voyage played at the club 3/1/19 and 3/2/19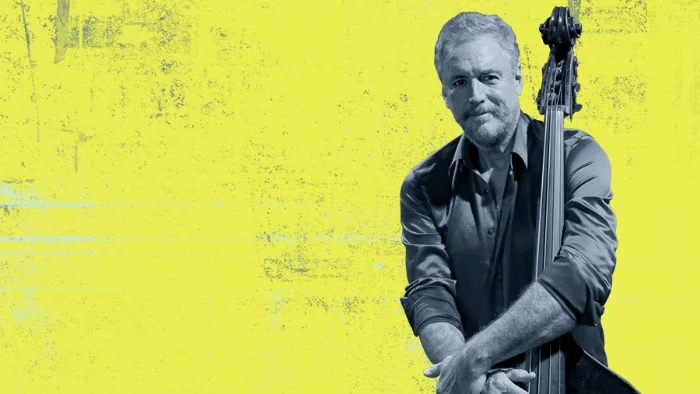 Brazilian bassist and composer Nilson Matta is known for his work with Trio Da Paz, Don Pullen's African Brazilian Connection, Joe Henderson, and Yo-Yo Ma. Matta previously played at the club! See earlier interview.
You're turning 70, and tonight was a wonderful tribute to your 70th birthday. What do you think about this?
I haven't really been thinking about my birthday, but you know, I'm here and want to keep on going. I have friends; I have music; I have many things to enjoy life and to continue doing what I'm doing. I'm going to Brazil and Argentina, touring with pianist Kenny Barron, and it's going to be a fantastic tour that starts in May.
Before that, we're going to Italy with the Samba Meets Jazz workshops, which is my music camp. We're going to Palermo, Sicily; staying there for two weeks teaching, talking, and playing concerts, then straight to Brazil and Argentina for 12 more days, then we're back here.
And many other things are happening. We've recorded a new album with the bass and big band, so I'm keeping myself busy. And to play here at the Jazz Forum is something special. I'm so happy that Mark decided to present the Nilson Matta Brazilian Voyage, so my ego is a little full now, but you know, I respect, I respect.
What are your thoughts on the future of jazz?
As a Brazilian bassist, I've played with Joe Henderson, Herbie Mann, Don Pullen, Gato Barbieri — the older guys who are still young guys for us. They're still teaching us how to do things better. I think the new generation learns fast; they absorb like a sponge, so I think a lot of music is coming. I believe jazz is not going to die. It's going to be here forever like classical music.
Jazz is very difficult to play the correct way to follow the steps of John Coltrane, Miles Davis, Oscar Peterson, Scott Lafaro, Ron Carter, and Kenny Barron, so people can't take it for granted. You have to practice a lot.