Brian Lynch played at the club 3/1/19 and 3/2/19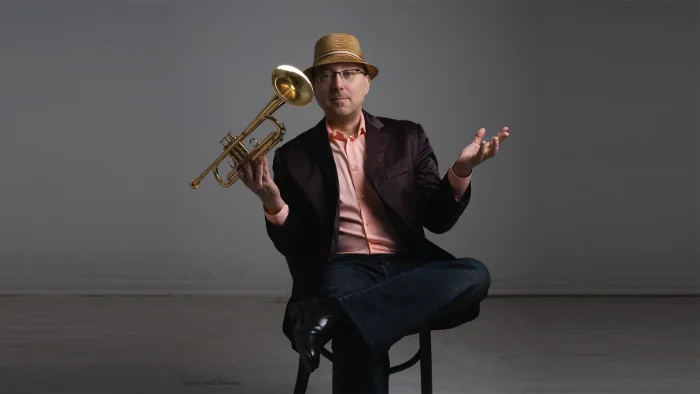 Grammy© Award Winning trumpeter Brian Lynch brings to his music an unparalleled depth and breadth of experience. A honored graduate of two of the jazz world's most distinguished academies.
How did you come to play the trumpet and the flugelhorn as well as you do?
Many years of hard work. I don't think it came very naturally to me. I mean, even at the best of times, the trumpet is an instrument you really have to work with. I liken it a little bit to the drums; you almost have to swear yourself to it like you're in servitude to the instrument.
How did you start?
I don't know. I played in grade school and all that, but I didn't really get interested in taking it seriously until I heard jazz music, and some of the music that I heard wasn't even trumpet players. I think maybe hearing John Coltrane got me going more than anything else, but also Miles Davis, Freddie Hubbard, Lee Morgan, and Woody Shaw. Something hit me and I started getting more serious about it.
What are your thoughts on the future of jazz?
Well, I teach and I certainly see from the interest in the students that come to where I teach at the University of Miami Frost School of Music that there's no shortage of very talented young people who want to learn this music and who feel like it's a value to keep this music going.
So as far as that goes, the future of the music is bright. We have to accept that music cannot stay the same and in one place. People are going to take it, and they already have taken it, in ways that maybe we wouldn't have thought of or out of the frame of what we think is jazz, but they thought the same thing about us when we were growing up, so you have to use perspective and be really supportive of it.
I think there's still a real need to be aware of tradition as a platform for innovation. I think the younger musicians know that, and older people like myself, and this is very hard for me to choke out, but it's true — I've learned from the younger players so much.
What do you think about the club?
I love it. I used to go to Mark's club on Broadway and Bleecker Streets back when I first came to New York in early 1980s, so I've known Mark for a really long time. I had a lot of great experiences there. It's great to be up here. This is the second time I've played here and I dig the crowd.
Tarrytown is kinda hip, huh? I mean I really like the atmosphere, and some really wonderful people come here to hear the music, which makes us feel good to play it.