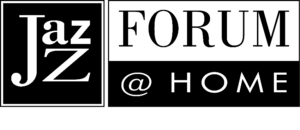 Kate Baker & Dave Stryker Live
We're continuing to go live with our Jazz Forum @ Home weekly and free-of-charge Facebook Live Streaming series from artists' homes,  Saturdays at 7 pm EDT.

Celebrating Vic Juris: Alone Together
@ Jazz Forum | February 10, 2018 | Enjoy this segment of the Strings Attached show on February 18, 2018 with the late Vic Juris performing Alone Together. We miss you Vic!

For families who are at home with kids, Jitterbugs is here for you! This week we are excited to announce Jitterbugs @ Home to keep your children musically busy.
We Are Bringing Jitterbugs to Your Living Room via Zoom!
Jitterbugs is now online! We are happy to present Jitterbugs @ Home, an interactive jazz class presented virtually via Zoom for families with kids ages 2-7! Jitterbugs @ Home is hosted by our educators Juan and Jody,  leading the children through interactive music games.
Your children will get to know Jazz through storytelling, music and playing.
For safety reasons, we'll only provide the live video link and password to people signed up for the class.

Please contribute to Jazz Together, our emergency campaign to support the Jazz Forum, the 34 free outdoor summer concerts and our new Jitterbugs children's education program.
You can also support us by sharing this blog with your friends and loved ones.
Share This Jazz Forum @ Home Post

This content is from our weekly Jazz Forum @ Home email series.
To receive these emails directly to your inbox, please subscribe below!