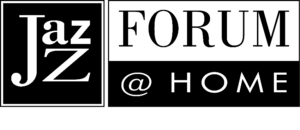 We're continuing to go live with our Jazz Forum @ Home weekly and free-of-charge Facebook Live Streaming series from artists' homes,  Saturdays at 7 pm EDT.
Oh Johnny, Oh Johnny! Oh!
Duchess • Jazz Forum Arts Summer Series @ Lyndhurst in 2015, feat. Amy Cervini, Hilary Gardner and Melissa Stylianou

Sonny Rollins: Art Never Dies by Sonny Rollins
The New York Times | "The spirit of art shines through in a performance when I stop thinking — when I let the music play itself, not just the one song that I've memorized, but all of the songs and experiences I have in my mind. And as things come to me, unplanned, I surprise even myself."

Drummer Conclave at Jazz Forum, 1982
These bad cats were all on hand to check out the legendary Philly Joe Jones, playing with his Quartet at the second Jazz Forum loft (648 Broadway at Bleecker Street, 5th floor – photo by Mitchell Seidel) L-R: Jimmy Lovelace, Jo Jones, Jr., Art Lewis, Al Foster, Leroy Williams, Philly Joe Jones, Jual Curtis
– Mark Morganelli

For families who are at home with kids, Jitterbugs is here for you! This week we are excited to announce Jitterbugs @ Home to keep your children musically busy.
We Are Bringing Jitterbugs to Your Living Room via Zoom!
Thanks to everyone who joined our first Jitterbugs @ Home class. We hope you had fun singing and dancing along with us!
The Jitterbugs Jazz classes are for kids ages 2-7. Two teachers lead the children through interactive music games.
Please join us for our next class on Sunday, June 14 @ 10:30 AM!
For safety reasons, we'll only provide the live video link and password to people signed up for the class.
Please contribute to Jazz Together, our emergency campaign to support the Jazz Forum, the 34 free outdoor summer concerts and our new Jitterbugs children's education program.
You can also support us by sharing this blog with your friends and loved ones.
Share This Jazz Forum @ Home Post

This content is from our weekly Jazz Forum @ Home email series.
To receive these emails directly to your inbox, please subscribe below!