Celebrating Five Years of the Jazz Forum
To celebrate the 5th Anniversary of the Jazz Forum, we invite you to join us as we recall the adventure of the past seven years of creating the club and building our wonderful community. Scroll down and enjoy. 
We are a community held together by the artistry of Jazz musicians and our patrons' love of live music. Thank you all for the past five years of Jazz memories.
We invite everyone to send us Happy Birthday messages in the Comments section of the donation form and we'll share your notes!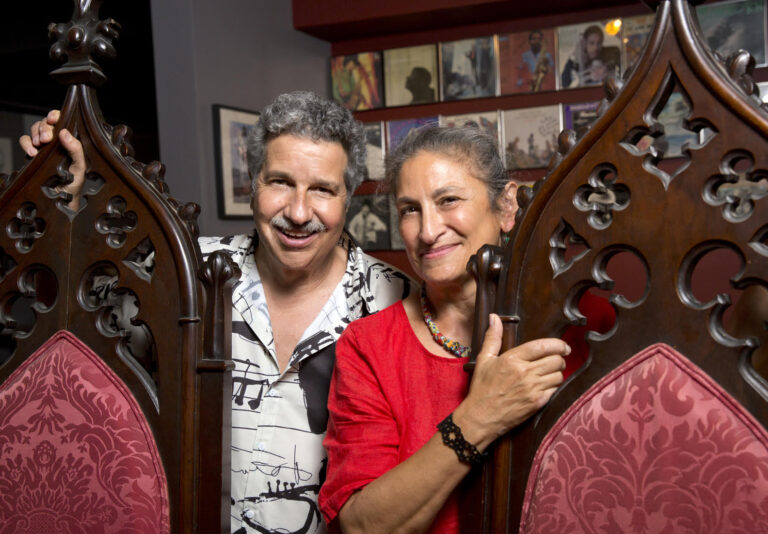 2015-2017:

A Labor of Love
One of two backhoes that revamped the building foundation
Our contractor, Greg Beyl's team (Marcos and Ernesto) jackhammering three feet into the concrete floor
That's Jeff Johnson, wood artist extraordinaire, building our unique bar.
Lonely as it looks, Mark's little Steinway served us well until we acquired the 7 ft. Grand
Two-dimensional club patrons drawn by Jenifer Ross inspired us while we reconstructed the space
For 800 days, we cut parking deals, hosted backhoe operators, went to village meetings, got permits, collected peculiar objects and tasted wine. What would we have done without that wine?!
Thanks to our architect Steve Tilly, contractor Greg Beyl, painter and best friend, Tony Giuliano and Jeff Johnson who built our stunning bars and tables.
Before the construction was finished, folks experienced the space at several pre-opening events including David Amram's Birthday Bash, a New Year's Eve celebration and the first RiverArts Music Tour event in Tarrytown.
Thanks to our friends Janet Roseff and Jen Ross for decorating the walls and to everyone who joined us for the pre-opening celebrations!
June 9, 2017: Roy Hargrove Quintet Opens the Club!
The late Roy Hargrove excited the capacity crowds for our first weekend at the club.
The launch of the club was made possible by the amazing and generous 60+ Charter Donors who contributed over $160,000.
It was our dream but the commitment and confidence of our Charter Donors told us it was what you wanted!
Photos by Doug Schneider.
We continue to build bridges between the arts and the community.
Please consider donating in honor of our 5th Anniversary Campaign to keep the Jazz community thriving in Westchester.
We invite everyone to send us Happy Birthday messages in the Comments section in the donation form and we'll share your notes!
Celebrating our 1st anniversary, we enlisted Grammy-winning pianist and frequent Jazz Forum performer Bill Charlap to select a Steinway B Classic Grand Piano at the Steinway factory in Long Island City. Bill played Chopin, Fats Waller, Bernstein, Monk, Duke Ellington and Gershwin to select the best instrument for the club.
The installation was a speedy affair.
A special 88 Keys fundraising campaign raised $88,000 from our devoted patrons to buy the piano.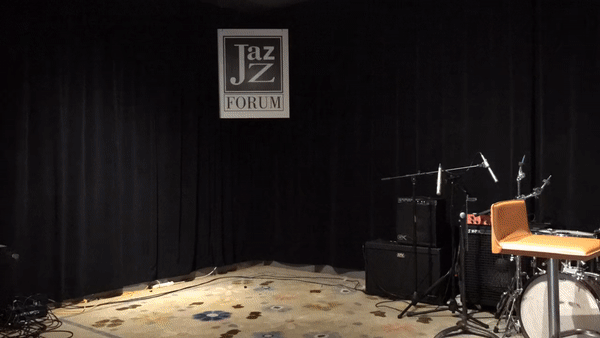 2019-2020: Community Engagement During the Pandemic
Julius Rodriguez Quintet Live Stream – Benefit for NAACP/ACT-SO
2021: We Finally Launched Jitterbugs, In-Person
We were finally able to bring our Early Childhood Educational program Jitterbugs to the club, after being online for over a year.
Led by Neal Spitzer, we began introducing 2-7 year old children together with their families to the amazing world of Jazz!
The program won ArtsWestchester's 2021 Education Arts Award.
Surviving the pandemic was never a given. Seeing our patrons stand by our side as we maintained a vibrant community within the limits of possibilities was heart-warming and kept us working. We will never forget your support.
We invite everyone to send us Happy Birthday messages in the Comments section in the donation form and we'll share your notes!
David Sanborn
by Mitchell Seidel
June 17, 2019
Catherine Russell
by Joel Resnick
July 22, 2017
Donald Harrison
by Joel Resnick
July 7, 2017
John Pizzarelli
March 17, 2018
Roberta Gambarini
June 30, 2017
Russell Malone
January 6, 2018
Mark and Ellen welcome everyone back to the club after reopening. We were closed for 14 months and survived thanks to the support of the Jazz community. Thank you!
Bob James
by Mitchell Seidel
November 5, 2021
Eddie Palmieri
by Mitchell Seidel
April 22, 2022
Eric Alexander vs Vincent Herring
by John Abbott
July 6, 2021
Fred Hersch
by Bob Plotkin
January 28, 2022
Joe Lovano
by Mitchell Seidel
October 15, 2021
Joey DeFrancesco & Mark Morganelli
by Clara Winder
December 10, 2021
Karrin Allyson
by Mitchell Seidel
July 10 2021
Monty Alexander
by Mitchell Seidel
June 4, 2021
Nick Payton
by Mitchell Seidel
January 14, 2022
Nick Payton sitting in with George Coleman
by Mitchell Seidel
October 1, 2021
Paquito D'Rivera
by Mitchell Seidel
December 3, 2021
Steve Turre
by Mitchell Seidel
September 3, 2021
Tim Armacost
by Mitchell Seidel
February 25, 2022
The joy of presenting the finest artists – both celebrated and less well-known – is even richer when we see the pleasure of audience members listening, watching, tapping their feet, closing their eyes, clapping their hands, and standing for ovations.
Joe Lovano, Eliane Elias, Catherine Russell, Paquito D'Rivera, Monty Alexander, Bill Charlap, Ann Hampton Callaway, John Pizzarelli, George Coleman, Nicholas Payton, Roberta Gambarini, Samara Joy and so many others. Thank you, brilliant musicians and marvelous audience members.
Barry Harris
by Mitchell Seidel
October 4, 2017
Freddy Cole
July 29, 2017
Wallace Roney
by Mitchell Seidel
May 25, 2019
Claudio Roditi
by Joel Resnick
July 8, 2018
Vic Juris & Ellen Prior
New Year's Eve, 2015
We were honored to present so many spectacular artists who have since passed away.
Our audiences loved hearing them live, especially at the club (as did we!).  Thank goodness their recordings will live on forever: Roy Hargrove, Wallace Roney, Barry Harris, Jimmy Cobb, Freddy Cole, Lee Konitz, Candido, Vic Juris and Sonny Fortune.
Serendipity and Objects of Love
The physical space of the club reflects the love in the room, the eclectic taste of Ellen Prior's parents, and the friendships formed over the years.
The Pool Table: Donated by dear friends, Lee Eiferman and Tim Duch, who found it in the "game room" of the Knights of Columbus building they bought on N. Washington Avenue. Their junk is our delight!
The "Don't Walk" sign: Donated by Bob Plotkin, friend and photographer who "found" it 35 years ago at 116th and Broadway as they were trading these for digital signs.  Electrified by our contractor, Greg Beyl. A near perfect reminder of our adage: "We are a listening room."
Dizzy's Trumpet: Fabricated with Dizzy Gillespie's signature design before he died but unfortunately never played by him. Having this as a centerpiece of the club is Mark's tribute to Dizzy's joyful music, embracing personality and devotion to the Jazz community.   
The Flying Woman: A cherished gift from Mark to Ellen in the planning stages of the club. It was in Hank's Alley (a junk/antique store and institution in Tarrytown) for years and Ellen always coveted it.  She has such perfect breasts and wings to embrace us all.  
Thank you for the past five years. Here's to five times five and more!