When:
August 2, 2019 @ 6:30 pm – 8:00 pm
2019-08-02T18:30:00-04:00
2019-08-02T20:00:00-04:00
Where:
Pierson Park
Tarrytown
NY

Contact:
Jazz Forum Arts
(914) 631-1000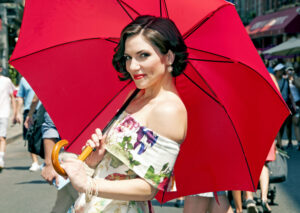 Vanessa was never a stranger to jazz; her grandfather's cousin was Tony Mottola, a studio guitarist who played on thousands of albums and in the Tonight show orchestra. After starting singing at the age of 4, she gathered the pop-jazz standards she knew and learned many more, presenting solo shows throughout Manhattan and Westchester. In 2012, Vanessa became a finalist in the MetroStar Talent Challenge. The following year she brought her own show to the Metropolitan Room. New York Cabaret Today called her "a star on the rise."
Now living in Tarrytown, New York, Vanessa maintains a growing performance schedule. Last year's highlights included a fundraiser at the Italian American Museum in New York to aid victims of the summer earthquake in central Italy; Oscar-nominated actor Chazz Palminteri hosted the event. Come see her perform her Italian-American Jazz August 2nd at Pierson Park!
See all Summer Concert locations here!