11th Annual Sunset Jazz at Lyndhurst Concert Series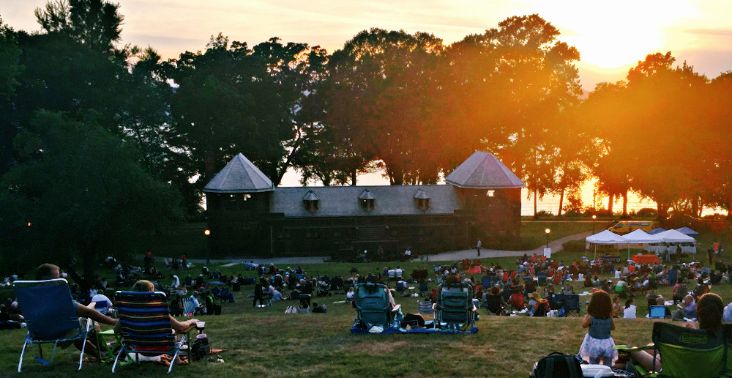 Eight Free Thursday Evenings
This summer we're celebrating our 11th anniversary in Tarrytown, with a  new lineup of fantastic Jazz musicians who will be playing at Lyndhurst.
$10 per person grounds/parking fee (kids under 10 admitted free).
All attendees are required to register at Lyndhurst.org!
NEW! Looking for some fun plans with your kids this summer? Check out our free Jitterbugs events in Dobbs Ferry Waterfront Park. Click here!
Special Note: Cancelled if rain.
Lyndhurst Concert Schedule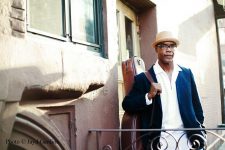 July 8 – Ed Cherry T-Man Trio
Cancelled due to expected rain.
Aficionados have long known that Ed Cherry deserves a spot among the truly great, expressive jazz guitarists. He's partnered with Dizzy Gillespie, Paquito D'Rivera, Roy Hargrove, Jon Faddis and many more. He recently joined organist Kyle Koehler on drummer Jason Tiemann's acclaimed, exciting album T-man, a recording that inspired this gig.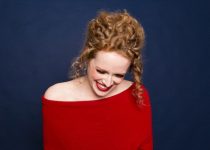 July 15 – Kristen Lee Sergeant
Kristen Lee Sergeant is a jazz vocalist and composer of effervescent energy, musical intensity and dramatic flair. She will be joined by David Budway, piano Jay Saywer, drums and Hannah Marks, bass.
"Sergeant's training as an actress and classical vocalist enable her to craft moments of engaging drama, whether she's seductively sliding into a note with a near-whisper, delivering a breathy revelation or belting out a lyric with full-throated muscularity…" – Bobby Reed, DownBeat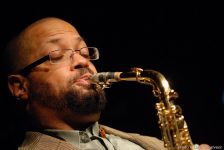 July 22 – Justin Robinson Quartet
New York saxophonist/flutist Justin Robinson has been much-admired since a teenager, part of the '80s youth wave alongside friends and bandmates like Stephen Scott, the Harper Brothers and Roy Hargrove. He accompanied greats like Little Jimmy Scott and Abbey Lincoln, played in the Dizzy Gillespie and Carnegie Hall jazz orchestras and has led five recording dates.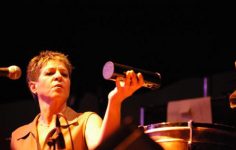 July 29 – Mayra Casales & Cocomama
Cancelled due to expected rain.
Among the most versatile, well-rounded percussionists of her generation, Mayra Casales has performed with Regina Carter, Dizzy Gillespie, Wayne Shorter, Ray Baretto and more. Cocomama — her all-women Latin Jazz band influenced by Afro-Cuban, Classical, Latin- American, Jazz, Soul, and Blues — plays their own brand of fierce, beautiful World Music.
"Mayra is undoubtedly one of the most well rounded and exciting percussionists of this time". – Elisabeth Oei, Afrasia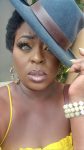 August 5 – Alicia Renee AKA blue eyes • Direct from New Orleans!
Whether leading an all-star band or singing solo over her high traffic YouTube channel, New Orleans-based Alicia Renee brings her very personal style to every note. Born in Flint, Michigan (also home to one of her influences, Betty Carter), she's performed at the top European jazz festivals and all over N'awlins.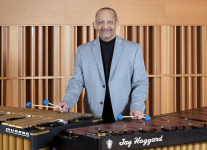 August 12 – The Jay Hoggard Quartet
Presented by Jazzmobile's SUMMER FEST. One of the vibraphone's greatest innovators, Jay Hoggard masterfully draws on the three B's of the jazz tradition – blues, bop, and ballads – and blends in contemporary musical trends. He will seamlessly combine jazz and gospel roots with African marimba rhythms. It results in music that is positive, spiritual, uplifting and happy.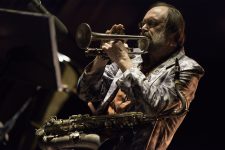 August 19

– Scott Robinson Quartet
Having appeared on nearly 300 albums, including 20 under his leadership, Scott Robinson has gained international fame as a US State Department Jazz Ambassador. He shines on an astonishingly wide array of reed and brass instruments. And on clarinet and sax, as The New Yorker observed, "He regularly achieves greatness."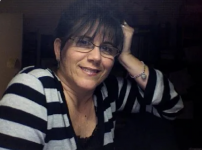 August 26 – Anita Brown Jazz Orchestra
This dynamic large 20-piece ensemble, together for over two decades, will premiere Ms. Brown's new suite, honoring a family member who rests on Hart Island, NYC's public cemetery. The piece also honors her family's grief and memorializes the million other souls who rest there, many of whom arrived during the pandemic.
Visit Any of Our Other Locations
Share These Concerts With Your Friends