Jazz at Pierson Park, Tarrytown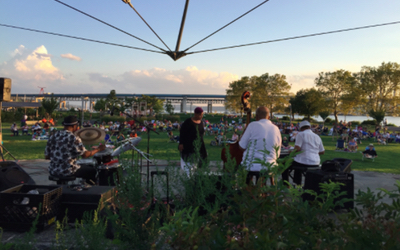 Eight Free Friday Evenings
No tickets needed. This summer we are celebrating Jazz with a fresh new lineup of fantastic musicians who will be playing at Pierson Park.
Co-sponsored by Hudson Harbor.
Special Note: Indoors in Senior Center on site if rain.
Pierson Park Concert Schedule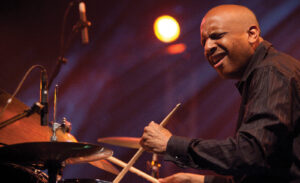 July 5 – Billy Drummond "Freedom of Ideas" Quartet
Bandleader and educator, Billy Drummond cut his teeth apprenticing with Jazz greats including Horace Silver, Sonny Rollins, Joe Henderson, and Bobby Hutcherson, and has become one of today's most versatile drummers.

His album Dubai (with Chris Potter, Walt Weiskopf and Peter Washington), was picked as the Number 1 Jazz Album of the Year by The New York Times when it was released, and was recently dubbed one of the "50 Crucial Jazz Drumming Recordings" of the past 100 years by Modern Drummer magazine. See the Billy Drummond Quartet feat. Dayna Stephens, sax, Lawrence Fields, piano, and Dezron Douglas, bass at Pierson Park!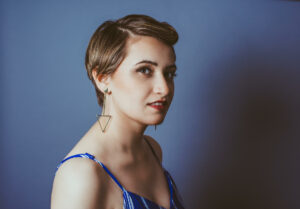 July 12 – Kristina Koller
Always innovative and pushing the limits, Kristina Koller is making her mark in the music world. As a vocalist, arranger and composer, Kristina fearlessly pushes 'vocal jazz' into different directions adding interesting flavors and textures to create her unique sound. Evidenced in her widely acclaimed 2018 debut album 'Perception', her music is both timeless and contemporary, melding different genres together and uplifting old jazz standards to a refreshing direction.

Her latest EP release 'At The Poli Club' captures a snippet of her live show. It exemplifies her extraordinary and expressive vocal dynamics in its purest form, doing what she does best - performing and producing music without bounds. Her approach enlightens young as well as older audiences, giving traditional jazz music an enticing uplift and making it easily embraced for all musical tastes.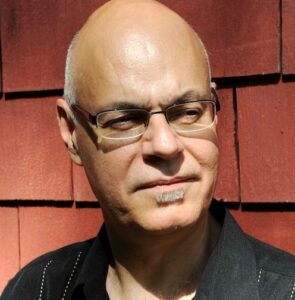 July 19 – Roland Vazquez Sextet – Latin Jazz!
Throughout his 20 years performing in NYC, composer and drummer Roland Vazquez has developed a "funky-salsa-bebop" style with unique compositions for quintet, octet and big band. As a member of Clare Fischer's band "Salsa Picante", Vasquez played on the group's Grammy-winning "Salsa Picante 2+2."

As jazz faculty at Manhattan School of Music and the University of Michigan, he taught ensembles, jazz composition, and "Music of the Afro Latin Diaspora". Roland also received a grant from the Aaron Copland Fund for Music to record "The Visitor" (2009) featuring his all-star NYC jazz orchestra.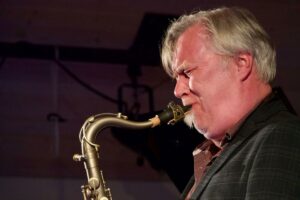 July 26 – Kirk MacDonald Quartet
With an established reputation as one of Canada's leading saxophonists, Kirk MacDonald cut his first record at the age of thirteen. Throughout his career, he has received numerous awards, and has worked with many leading musicians in a variety of musical genres. He has performed on over fifty CDs as both leader and sideman, and has participated in numerous national broadcast recordings for CBC Radio.

In addition to performing extensively throughout Canada, he has also performed in the USA, United Kingdom, Germany, Spain, France, Italy, Holland, Monaco, Australia, Korea, Bermuda, and the Bahamas. Come see Kirk and his quartet play live at Pierson Park July 26th!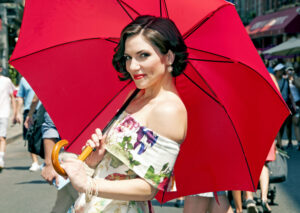 August 2 – Vanessa Racci - Jazz Italian Style! Ferragosto Celebration
Vanessa was never a stranger to jazz; her grandfather's cousin was Tony Mottola, a studio guitarist who played on thousands of albums and in the Tonight show orchestra. After starting singing at the age of 4, she gathered the pop-jazz standards she knew and learned many more, presenting solo shows throughout Manhattan and Westchester. In 2012, Vanessa became a finalist in the MetroStar Talent Challenge. The following year she brought her own show to the Metropolitan Room. New York Cabaret Today called her "a star on the rise."

Now living in Tarrytown, New York, Vanessa maintains a growing performance schedule. Last year's highlights included a fundraiser at the Italian American Museum in New York to aid victims of the summer earthquake in central Italy; Oscar-nominated actor Chazz Palminteri hosted the event. Come see her perform her Italian-American Jazz August 2nd at Pierson Park!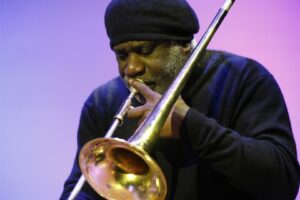 August 9 – Frank Lacy Quartet - Birthday Celebration!
During the '80s and '90s, trombonist Frank Lacy, straddled the fence between avant-garde and mainstream forms. Lacy can count Dizzy Gillespie and Abdullah Ibrahim among the prominent leaders for whom he's worked. Indeed, Lacy spent a year-and-a-half as music director for Art Blakey's Jazz Messengers and played with Bobby Watson's Horizon band, which says everything about his bop credentials.

Lacy was born and raised in Houston, TX. He came from a musical family; his father was a teacher and a guitarist and his mother was a gospel singer. Lacy began taking piano lessons at the age of eight and took up the trombone soon after. Lacy attended Berklee School of Music in Boston, where he met and jammed with Branford Marsalis, Greg Osby, and Marvin "Smitty" Smith. Frank was featured on Roy Hargrove's Grammy-winning CD, Habana.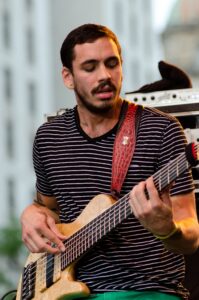 August 16 – Felix Pastorius' Hipster Assasins
Felix Pastorius is a rising young, yet accomplished bassist. The son of bassist Jaco Pastorius, Felix began playing bass guitar, at age 10, inspired by Flea, Les Claypool and Victor Wooten. Upon attending a Wooten Bass Camp at 19, Felix was recommended by Victor for the bass slot in Jeff Coffin's Mu'tet.

Three albums later, Felix had fleshed out his surging style on 5- and 6-string bass, leading to stints with Cindy Blackman and his own steady gig at the Zinc Bar in New York City. In late 2011, Felix auditioned for and landed the bass chair with Grammy-winning jazz mainstay, the Yellowjackets, at last providing an international platform for his forward-thinking fretboard work.

Come listen to Felix Pastorius' Hipster Assassins August 16th in Pierson Park!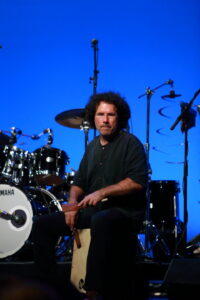 August 23 – Thierry Arpino Quartet
Born in Paris, Thierry Arpino stands atop a family drumming lineage which spans four generations. His father introduced him to the drums at age of three. Thierry also studied classical percussion, piano and harmony. He is a graduate of St. Maur National Music Academy in France and continued his musical education at Berklee College Of Music in Boston where he was invited to study with big band master Herb Pomeroy and master drums teacher Bob Kaufman.

Thierry's career has been punctuated by stints with such notables as Joe Beck, Larry Coryell, Bill Evans and Jean-Luc Ponty. Although much can be said of Thierry Arpino's virtuosity, what remains unqualifiable and unquantifiable is the sheer joy he displays in each and every performance.
Visit Any of Our Other Locations
Share These Concerts With Your Friends