Jazz at Pierson Park, Tarrytown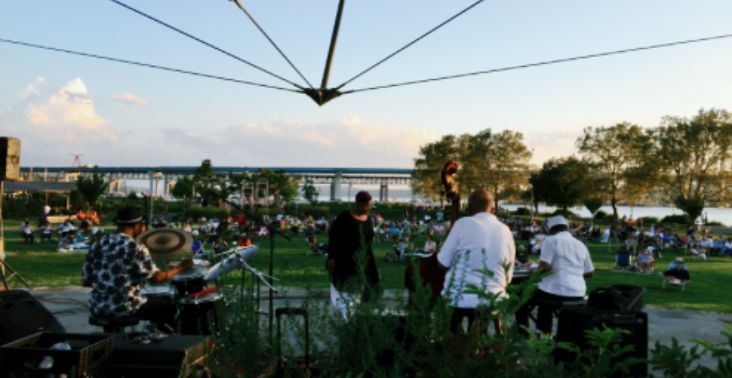 Eight Free Friday Evenings
No tickets needed. This summer we are celebrating Jazz with a fresh new lineup of fantastic musicians who will be playing at Pierson Park.
NEW! Looking for some fun plans with your kids this summer? Check out our free Jitterbugs events in Dobbs Ferry Waterfront Park. Click here!
Special Note: Cancelled if rain.
Pierson Park Concert Schedule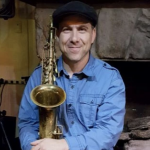 July 9 – Neal Spitzer & Friends
Local favorite Neal Spitzer has lived and performed in the NYC area since attending The New School, focused on Jazz Performance. Raised in a musical household — his mother is accomplished concert pianist Rosalie Spitzer — Neal studied with Ricky Ford and Arnie Lawrence, then played with greats like Milt Hinton, Houston Person and Jimmy Cobb.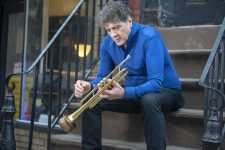 July 16 – Joe Magnarelli Quartet feat. Akiko Tsuruga
An in-demand, world-class trumpet stylist with a warm, open sound and stellar technique, Joe Magnarelli has recorded 14 albums in addition to a four decade performing career that includes stints with Lionel Hampton, Jon Hendricks, Mel Torme and Aretha Franklin. His quartet includes wife Akiko Tsuruga on Hammond B-3 organ.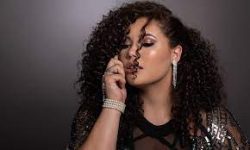 July 23 – Ashley Pezzotti Quartet
Downbeat magazine called 23-year-old Ashley Pezzotti "a performer to watch," with good reason. Only a few years into her singing and composing career, the marvelous Ms. Pezzotti has already performed original compositions at the Kennedy Center, sung and recorded with Wynton Marsalis and released her own highly-acclaimed album. Catch this fast-rising star.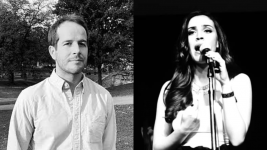 July 30 – Matt Buttermann Quartet
feat. Ceren Yasaroglu
A renowned and highly popular jazz educator at Fordham University, Jazz At Lincoln Center and with Jazz Forum Arts, Matt is also a well-established performer, having played guitar alongside Clark Terry, Wynton Marsalis, Jimmy Heath, Mulgrew Miller and Freddy Cole. His quartet features his wife, vocalist Ceren Yasaroglu, who studied Jazz Voice at the New School.
NEW THIS YEAR: JITTERBUGS! Apart from performing on July 30th in Pierson Park, he'll also be hosting Jazz Forum Arts' Jitterbugs program for all kids: Wednesdays at 5:30 in Dobbs Ferry starting July 7th!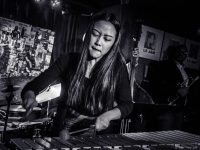 August 6 – Chien Chien Lu Quartet
Though raised on classical music in her native Taiwan, vibraphonist Chien Chien Lu became captivated by jazz 10 years ago and grew impressively. She joined trumpeter Jeremy Pelt's great quintet in 2018 and recently formed her own group and recorded her debut album, The Path, which All About Jazz awarded four stars.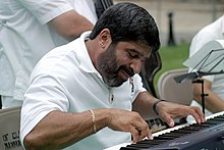 August 13 – Gilberto "Pulpo" Colon, Jr. Latin Jazz!
"Pulpo" means "octopus" in Spanish and Gilberto Colon Jr.'s rapid fingers on the keyboard earned him the nickname long ago. A giant of modern Latin jazz, he played with all three Mambo Kings – Tito Puente, Tito Rodriquez and the Machito Orchestra – plus Hector Lavoe's band, gaining international fame. He's led his own band for nearly two decades.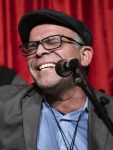 August 20 – Nanny Assis Brazilian Birthday Bash!
For over three decades, the charismatic percussionist-guitarist- vocalist Nanny Assis has enchanted audiences worldwide, winning the prestigious Brazilian International Press Prize as 2011 "Best Singer Of The Year." A master accompanist, on his latest recording, he anchored the Requinto Trio with singer Janis Siegel (Manhattan Transfer) and pianist John DiMartino.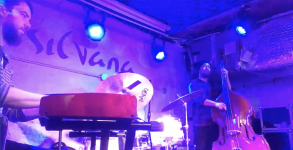 August 27 – Austin Day & B-Side Five
Record collectors know all about B-sides: The "flip" side of old 45 RPM records frequently contained lesser-known music that was just as thrilling as the hits. That's the spirit behind Austin Day and the B-Side Five – a hard bop quintet that focuses on exposing the hidden masterpieces of jazz. Get ready for musical revelations!
Visit Any of Our Other Locations
Share These Concerts With Your Friends