Played at the club 11/09/18 and 11/10/18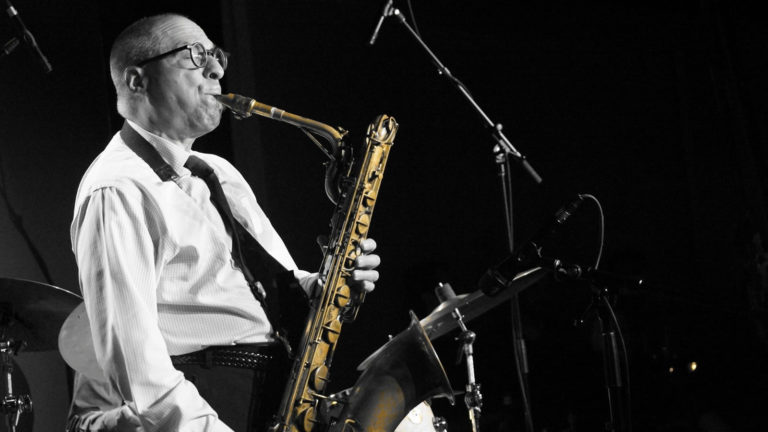 Gary Smulyan is a jazz musician who plays baritone saxophone. He leads a trio with bassist Ray Drummond and drummer Kenny Washington. Smulyan has played with the Vanguard Jazz Orchestra and its previous incarnation, the Mel Lewis Big Band.
How did you come to play the baritone sax?
Well, actually, the baritone sax found me. I was an alto saxophonist up until 1978, and I got a call to join Woody Herman's band, which was at that point still touring 50 weeks a year. I was a senior in college; this was May of 1978. I was almost graduated, and because Woody Herman's saxophone section was three tenors and a baritone, and the baritone player at that time, Bruce Johnstone, had left, the baritone chair had opened up. I had a friend in the band who was playing trumpet named Glen Drews, and he recommended me. I don't know why.
I wasn't a baritone player. I never thought I would ever play the baritone. It was not on my radar. I was a diehard alto saxophonist on this very straight path to that. I had a decision to make — go on the road or stay in school. I figured, well, I can always go back to school. This is going to be a one-time opportunity, so I agreed to do it, and with four credits left to get my bachelor's degree, I dropped out of school with two weeks to go, bought a baritone saxophone, and met the band in Bridgeport, Connecticut, May 25, 1978, and I never played the alto again. It's a crazy story.
So did you go back and finish your degree?
No, I have a high school diploma I'm proud to say. Two weeks short of my bachelor's degree.
That's a story!
That's a true story. You couldn't make that up even if you wanted to. It's a wild story. It was a total accident.
I tell all my students, "You think you're going on a straight path and then your phone rings and you make a left turn, and you go a completely different way in your life. You have to be open to try things, and you never know what's going to happen." So that was a life-altering phone call from me.
What would you like to say to your fans?
Thank you very much for all these years of support, buying the records. And not just my fans, I'd like to say to all jazz fans, thank you for supporting this music and all the great musicians. I feel so blessed to be in this world and having the opportunity to play with such amazing giants like Al Foster and John Patitucci and Tim Armacost and all the people that I've been so blessed to play with. I'm thankful every day.
What do you think about the club?
I am so glad this club is here. The community support and the people coming out to support this place and Mark and Ellen, we're so lucky to have a place like this in Westchester. We're able to come here, hear two sets of great music, eat great food, and not have to go into the city. This has been a gift. Really. And I hope that they can keep this going for many, many, many years because this is a gift to the musical community in Westchester.