Free OUTDOOR Summer Concerts
Enjoy live Jazz with your friends and family in your neighborhood park!
We present 32 concerts annually in July and August at five Hudson River locations: Dobbs Ferry Waterfront Park, Lyndhurst and Pierson Park in Tarrytown, Horan's Landing in Sleepy Hollow and Henry Gourdine Park in Ossining.
Jazz Forum Arts has been presenting free outdoor summer concerts since 1985!
2024 Summer Concert Locations
Free Outdoor Summer Concerts schedules announced in spring.
Be the first to know when we announce our summer concert schedule and see our upcoming Jazz Forum club shows!
About the Summer Concert Series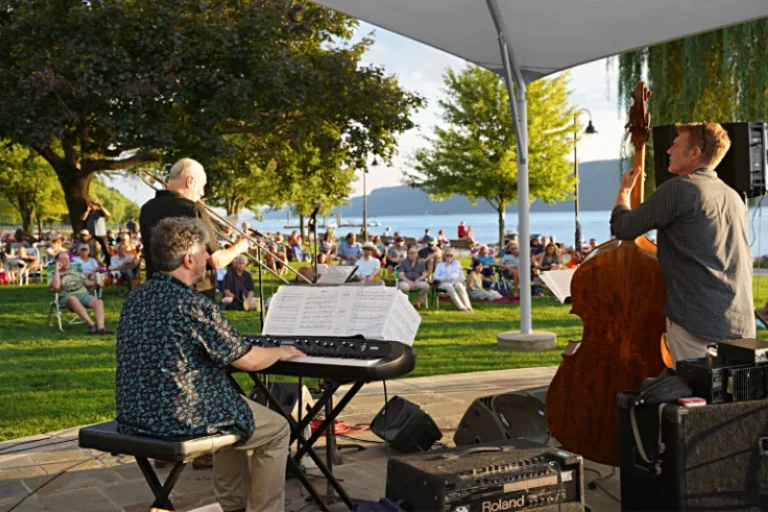 Jazz Forum Arts has been presenting free outdoor summer concerts, starting in NYC in 1985. Our Westchester series began in 2000 with the Dobbs Ferry Summer Music Series.
Our concerts feature established as well as emerging artists, providing exposure for younger musicians. We partner with municipalities, local businesses and nonprofits to ensure a broad-based audience.
These events attract thousands of loyal fans, Jazz lovers and first-time attendees of all ages and backgrounds. Our audiences come together around the music, picnics and the shared experience of beautiful riverfront settings.
See Our Summer Concert Schedule
Check out our Summer Concert schedule to get an overview of all 32 concerts.