The 2019 Free Summer Concerts are Coming
Summer schedule coming soon. Meanwhile, you can see jazz performances at the Jazz Forum club!
Celebrating 20 Years in Dobbs Ferry
Our 34th Anniversary Season will be coming in 2019. Below are the artists who performed in our 34 concerts in five Hudson River-front parks in 2018.

2018 Concerts by Location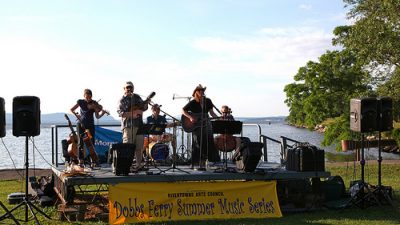 19th Annual Dobbs Ferry Summer Music Series
10 Wednesdays: June 20 to August 29

6/20: Hendrik Meurkens Quartet
Link to site: http://hendrikmeurkens.com
Hendrik Meurkens is perhaps one of the most important jazz harmonica players on the scene today. He has recorded fifteen albums on Concord Records, and continues to perform as both a guest artist, and with his own groups, both in festivals and clubs globally.
6/27: Svetlana & The Delancey Five
Link to site: http://svetlanajazz.com/delancey-five-1/
Svetlana is a vocalist, songwriter, and arranger from New York. She has toured internationally with the Delancey Five, and the band's record "Night at the Speakeasy," featuring trombonist Wycliffe Gordon has received a 4-star rating from AllAboutJazz, and gathered accolades as "The Best of 2016" on the Classicalite Music news site.
7/11: Alma Micic Group
Link to site: http://www.almajazz.com
Since moving to New York City in 2000, Alma Micic released two critically acclaimed albums and has been featured in magazines such as Downbeat, JazzTimes, Jazzwise, AllAboutJazz and in The New York Times. Alma's singing has been described as "confident, soulful, vulnerable, rhythmically savvy, with the most sensual vibrato you're likely to hear" (All About Jazz).
7/18: David Weiss Sextet
Link to site: http://davidweissmusic.com
Moving jazz forward has been David Weiss's modus operandi ever since he appeared on the scene in the late eighties when he established himself in New York by touring and/or recording with Billy Harper, Slide Hampton, and James Moody among many others.
7/25: Monte Croft Quartet
Link to music: https://www.youtube.com/watch?v=Ep_1iHkDY_s
An excellent vibraphonist, Monte Croft had a Columbia Record release and a more commercial follow-up, while maintaining a fairly low profile. He moved to New York and played with Branford Marsalis, the Terence Blanchard-Donald Harrison group, James Spaulding, and others before forming his own group and making his Columbia albums.
8/1: Nick Hempton Organ Quartet
Link to site: http://nickhemptonband.com
Nick Hempton is an alto and tenor saxophonist, composer, and bandleader, producing new music in the modern/mainstream tradition. Based in New York, he headlines clubs throughout the city, as well as concert halls and festivals around the world.
8/8: Lauren Sevian's "LSQ"
Link to site: https://www.laurensevian.com
Grammy award-winning saxophonist Lauren Sevian has been performing professionally since the age of 12 and has played with Christian McBride, George Duke, Billy Harper and backed up artists such as Maceo Parker and Fred Wesley. Her band released "Blueprint" in 2008 which spent many weeks in the top 20 on the Jazzweek chart, and received rave reviews in DownBeat, Cadence Magazine, and AllAboutJazz.
8/15: Mel's Jazz Zone
Link to site: http://www.melnusbaum.com
Mel Nusbaum's piano and guitar work is very rhythmic, at home in a hard driving rhythm section. Currently living in New Jersey, he has played jazz, funk, Latin and fusion guitar with Cecil Payne, George Coleman, The Brecker Brothers, Booker Ervin and Lonnie Smith and has performed at the Newport Jazz Festival.
8/22: Monika Herzig's SHEroes
Link to site: https://monikaherzig.com
Monika Herzig is a German-born jazz pianist. She recorded with the jazz fusion group BeebleBrox and has produced four albums as leader of the Monika Herzig Acoustic Project. Peace on Earth was released nationally in 2009 on the Owl Studios label.
8/29: Bird's Birthday Bash! Vincent Herring Quartet
Link to site: https://www.vincentherring.com
Celebrating the legendary alto saxophonist Charlie Parker (aka "Bird"), Grammy award-winning saxophonist Vincent Herring's intense, multi-noted style and ebullient swing pays homage to the style and life of "Bird." Herring has appeared on stage and on recordings with Freddie Hubbard, Dizzy Gillespie, Art Blakey and The Jazz Messengers, Horace Silver Quintet and Jack DeJohnette's Special Edition, among others.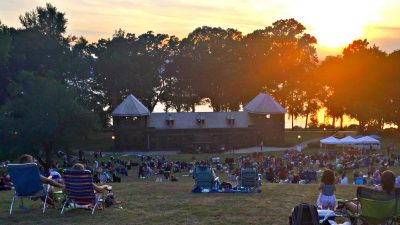 9th ANNUAL SUNSET JAZZ AT LYNDHURST CONCERT SERIES
8 Thursdays: July 5 to August 23
7/5: James Torme Group
Link to site: http://www.jamestorme.com
Multi-award-winning singer James Torme's debut album has topped both the iTunes and Amazon Jazz Charts. Son of the late Mel Torme, James Torme is now consistently appearing to standing room only crowds at the world's top venues as well as being featured as the centerpiece of Jazz festivals across the globe.
7/12: Brighton Beat
Link to site: http://www.thebrightonbeat.com
The Brighton Beat's goal is to create music that is able to breathe and develop, with songs allowing the musicians to communicate and tell a story. Heavily influenced by Afrobeat pioneer Fela Kuti, the group creates grooves reminiscent of Herbie Hancock, at times reaching the raw expression of Miles Davis and Freddie Hubbard.
7/19: Mike LeDonne Groover Quartet
Link to site: http://mikeledonne.net
Michael LeDonne is a jazz pianist and organist known for post-bop and hard bop. He is one of the leading players of the Hammond B3 organ and was nominated for Best Keyboardist of 2012 by the Jazz Journalists Association and has won the Downbeat critic's poll for "Rising Star" on organ.
7/26: Chuck Braman Quintet
Link to site: https://NYCJazz.com/chuck-braman-quintet
The Chuck Braman Quintet draws inspiration from the brilliantly inventive compositions of trumpeter Kenny Dorham, saxophonist Joe Henderson and others featured on classic Blue Note recordings of the 1960s.
8/2: John Marshall Quintet feat. Grant Stewart
Link to Marshall's site: http://www.marshallbop.com
Link to Stewart's site: http://grantstewartjazz.com
John Marshall has toured internationally, played with the WDR Big Band, and has released eight CDs. In recent years Marshall has developed into a convincing vocalist, alongside his trumpet and flugelhorn playing. Tenor saxophonist Grant Stewart has released sixteen recordings as a leader, has been voted a "rising star on the tenor" in the Downbeat Critic's Poll and was featured in JazzTimes magazine.
8/9: Rodney Green Quartet
Link to site: http://rodneygreenjazz.com
Drummer Rodney Green has been touring internationally since he was 17, working with Christian McBride, Diana Krall, Eric Reed, Tom Harrell, and Joe Henderson all before the age of 20. Today he continues to be a top sideman as well as a composer and leader of his own groups.
8/16: Marianne Solivan Quartet
Link to site: http://www.mariannesolivanjazz.com
Solivan has made a name for herself as a hard swinging, passionate, vocalist who has a commanding stage presence and is able to captivate audiences with her joyous exuberance and wit. She has played in many groups internationally and is one of just a few women leading her own big band.
8/23: Brian Q. Torff & New Duke
Link to site: http://www.briantorff.com
Brian Q. Torff is a renowned bassist, composer, author and a professor at Fairfield University. New Duke is an acclaimed eight-piece band that performs Torff's updated arrangements of Duke Ellington's music and was recently featured on CBS-TV.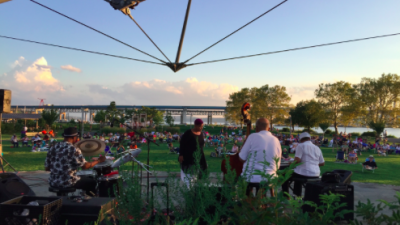 JAZZ AT PIERSON PARK, WEST MAIN STREET, TARRYTOWN, NY
8 Fridays: July 6 to August 24
7/6: Les Hommes de Cave
Link to site: https://www.anngulianhome.com/music
Les Hommes de Cave, a five-piece band, performs edgy mainstream jazz that mixes classic standards with influences from Haiti, Brazil and American R&B. The recent addition of singer/songwriter extraordinaire Ann Gulian has enabled the band to broaden its repertoire even further to include a variety of rarely heard selections from jazz and pop songbooks.

7/13: Mark Wade Group: Tribute to Carmen Leggio

Link to site: 
https://www.markwademusicny.com
Voted one of the top 10 bassists of 2016 by the prestigious Downbeat Magazine, Mark Wade has been an active bassist in NYC for over 20 years. He pays tribute to the late great saxophonist Carmen Leggio, who worked for over 50 years in the New York area.
7/20: Cameron Brown & Dannie's Calypso
Link to Music: https://www.youtube.com/watch?v=V6-jWHmPNqk
Jazz bassist, composer and educator Cameron Brown began his career in the mid-sixties, recording in Europe with George Russell and Don Cherry. These two wonderful musicians remain life-long influences and inspirations. Cameron played in the George Adams/Don Pullen Quartet that featured drummer Dannie Richmond, whose legacy is honored here.
7/27: Pablo Masis Quintet
Link to site: http://pablomasis.net
Trumpeter Pablo Masis has toured internationally and has performed with Michael Bublé, Josh Groban, Chad Lefkowitz-Brown and Gladys Knight. Since moving to New York City he has become an active freelancer as well as an educator at the Brooklyn Conservatory.
8/3: Victor Provost Group
Link to site: http://www.victorprovost.com
Victor Provost is widely regarded as one of the world's leading voices on the steel pan. With a strong foundation in Bebop, a contemporary sensibility, and deep roots in Caribbean music, he seamlessly melds and mixes genres.
8/10: Ofer Assaf Quartet
Link to site: https://www.oferassaf.com
Israeli-born tenor saxophonist, composer and educator Ofer Assaf is internationally recognized as a leading new voice on tenor saxophone. As a member of the Air Force and IDF Orchestras of the Israeli Army he performed for former President Bill Clinton and former Prime Minister Yitzhak Rabin.

8/17: Michael Sarian & The Chabones

Link to site: 
https://www.michaelsarian.com
Michael Sarian is a trumpeter and composer whose work has been heard throughout the United States, South America and Europe. Michael has released two albums as a bandleader with his septet, Michael Sarian & The Chabones and will be releasing their third album, LEÓN, in August of 2018 on ZOHO Music.
8/24: Kate Baker/Vic Juris Band
Link to Baker's site: http://www.katebakerjazz.com
Link to Juris' site: http://vicjurisjazz.com
Vic Juris is a renowned jazz guitarist, composer and teacher. He has played with Dizzy Gillespie, Sarah Vaughan, Chico Hamilton, and Dave Liebman, and has made numerous recordings. Kate Baker is one of today's most sought-after jazz vocalists.  She is also a vocal coach and runs our Jazz Forum Arts Vocal Competition and has performed with Richie Cole and the Alto Madness Orchestra.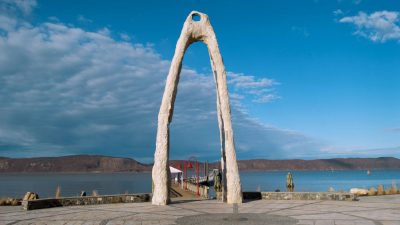 JAZZ AT HENRY GOURDINE PARK, OSSINING RIVERFRONT
4 Mondays: July 9 to August 20
7/9: Adam Nussbaum & The Lead Belly Project
Link to site: http://mark4.ram.tripod.com/NussbaumWeb/
Connecticut-born drummer, Adam Nussbaum is considered one of the finest drummers working today. He has played with Michael & Randy Brecker, Eliane Elias, Gil Evans, Stan Getz, Seamus Blake, James Moody, John Scofield, Sonny Rollins, Art Pepper, Joe Henderson and Joe Sample. He released his latest record, The "Lead Belly Project" in February 2018.
7/23: Ray Blue Quartet
Link to site: https://www.rayblue.com
Ray Blue's music can be described as a fusion of straight ahead jazz and rhythmic groove. Ray is a New York-bred saxophonist, composer, arranger and educator who performs internationally.
8/6: Souren Baronian's TAKSIM
Link to Music: https://www.youtube.com/watch?v=I9pHud00mTQ
Souren Baronian, whose parents originate from Armenia, grew up in Harlem. He has worked with musicians including Cannonball Adderley, Phil Woods, Joe Beck, Paul Motian, Don Cherry, and Paul Winter. Since 1975 he has led the group Taksim. He has performed at Lincoln Center, Carnegie Hall, Town Hall, and on The Tonight Show with Johnny Carson.
8/20: T.K. Blue Quartet plays Amour
Link to site: http://www.tkblue.com
Saxophonist T.K. Blue has played with NEA Jazz Master Little Jimmy Scott and NEA Jazz Master Randy Weston. Blue has played on over seventy recordings and has performed with a long list of great international artists. His latest album "Amour" received 4 Stars in Downbeat Magazine and was cited as one of the best jazz recordings of 2017.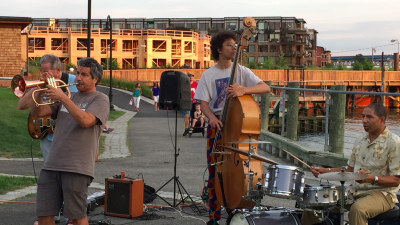 JAZZ AT HORAN'S LANDING PARK
4 Tuesdays: August 7 to August 28
8/7: Hiroshi Yamazaki Quartet
Link to Music: https://www.youtube.com/watch?v=btNYxTVNz-o
Pianist Hiroshi Yamazaki has recorded with Ron Carter, and Lewis Nash. Hiroshi continues to perform in the New York area and in Japan, where he has made two recent tours and his skills as an accompanist and arranger are valued by many artists.
8/14 & 28: Mark Morganelli & Jazz Forum Brazil Project
Link to site: https://jazzforumarts.org
Trumpeter/Flugelhornist Mark Morganelli has just recorded his fifth CD as leader, an all-Brazilian affair featuring some of the most beautiful compositions in Brazilian music, played in collaboration with some of the top Brazilian artists in New York. He toured Italy earlier this year, and continues to perform every Wednesday at the Castle Hotel & Spa, Tarrytown.
8/21: Greg Burrows Quartet
Link to site: https://www.gregburrows.net
Greg Burrows is a drummer from New York City. Burrows has worked lengthy stints with guitarist Sal Salvador, Brooklyn band Chicha Libre, and numerous freelance engagements and tours, including with bassist Brian Q. Torff & New Duke.