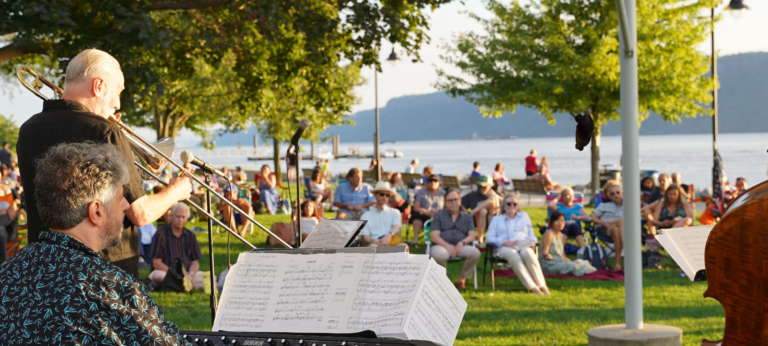 Support our free outdoor Summer Concert series!
Please contribute to our Jazz For All summer fundraising campaign to support our programming, including the 32 free outdoor summer concerts.
Your generosity will ensure that everyone in our community can experience the transformative power of this incredible art form.
Donations are fully tax deductible.
Jazz Forum Arts is a 501©3, not-for-profit arts presenting organization whose mission is to present top-quality events to the public at little or no cost, while enhancing the appreciation of Jazz, America's preeminent indigenous musical art form.
To donate by check, click below.
Make your check payable to
"Jazz Forum Arts" and mail it to:
Jazz Forum, 1 Dixon Lane, Tarrytown, 10591 NY.
Issues with your donation? We are happy to answer any question.
Phone: (914) 631-1000
Email: [email protected]
Donate to Jazz Forum Arts
We now accept all major credit cards! No PayPal account needed.
Please give the donation form a second to load. If it doesn't, click here 
.
Free Outdoor Jazz
We present 34 free outdoor summer concerts every year in five riverfront settings.
Learn More
Educational Programs
We support the community with access to affordable educational programs like Jitterbugs and our Jazz Ensemble.
Learn More
Benefit Concerts
We're proud to have held several benefit concerts, including for the Dobbs Ferry Food Pantry and NAACP ACT-SO.
Watch Video
Free Live Streams
During the pandemic, we streamed over 100 free jazz shows available online.
Watch Now
Your Donations Are Making a Difference
We are proud of the annual impact on our community through our programming.
hours of live music per year
artists performing per year
patrons at the Jazz Forum per year
summer concerts attendees per year
Don't miss any upcoming shows, offers or special events!