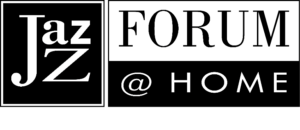 We were once again live with Jazz Forum @ Home's weekly free-of-charge Facebook Live Streaming series from artists' homes on Saturdays at 7 pm EDT. As always, you're able to watch the video on Facebook or right here in our blog (see video below).
Can't get enough of Sherma Andrews' music?
Well, neither can we! Check out this video from another performance of hers, here live at the Jazz Forum club.
This video is from July 26, 2019. On stage are Lenny Underwood (keys & bass), Chris Amelar (guitar), Michael Tate (drums) and of course Sherma Andrews herself!

In Memory of Wallace Roney Having known Wallace for almost 40 years, I'm incredibly saddened that he's no longer with us. Rest Easy, Wallace. Condolences to Wallace's family, friends and musical colleagues. Here is some music from his last sets at Jazz Forum, Tarrytown during his 59th Birthday weekend, May 24 & 25, 2019. – Mark Morganelli Feat. Emilio Modeste, sax, Oscar Williams, piano, Paul Caffari, bass, Malik Coley, drums. (Photo by Mitchell Seidel.)
Something A Little Different… Thanks to Zeke, originally from Tarrytown (currently in Elmsford) for sharing this super-creative video from his group's latest project 'Brush Strokes,' their jazz/hip-hop album. This is "The New" by Four Elements & Beyond (Freak Tha Monsta, MothaBug, Miggs Son Daddy). You Dig?!
Joao Gilberto & Stan Getz – Full Album (1963)
Getz/Gilberto is an album by American saxophonist Stan Getz and Brazilian guitarist João Gilberto, featuring pianist and composer Antônio Carlos Jobim, who also composed many of the tracks, including Garota de Ipanema & Desafinado. Getz/Gilberto was released in March 1964 by Verve Records and is considered the record that popularized bossa nova worldwide and was one of the best-selling jazz albums of all time. It was one of the main inspirations for me as I recorded by latest Brasil! Double-CD. Enjoy the Masters! – Mark Morganelli
We recommend!
Daily Facebook Live Broadcasts from artists Jazz Forum Arts has presented.

o stay connected as a community, each week we will ask you a question. We will post a few responses in next week's Jazz Forum @ Home. Click below to answer this week's question and check out our favorite response from last week. Have fun!
Have fun and let us know if you would like to remain anonymous!
Last week's question was: "What Jazz tune makes you feel most at home and why?" Thank you for sharing your stories with us!
Frank Pedulla replied…
I would say "Stardust" by Hoagy Carmichael, including its somewhat lengthy Rubato introduction, because it moves so smoothly and elegantly throughout its range, making it so relaxing.  In my opinion, the tune "Stardust" can be comparable to the traditional American Folk song "I Dream of Genie With the Light Brown Hair" by Stephen Foster, and as well, the traditional Irish folk song, "Danny Boy".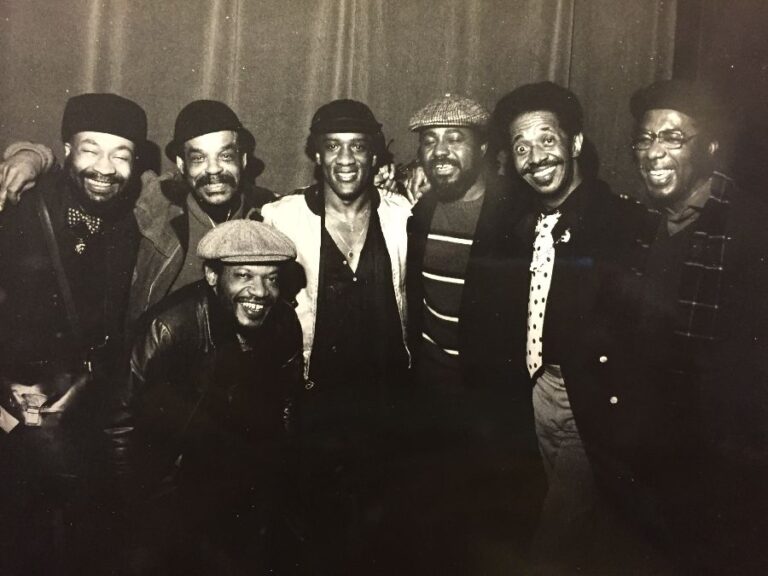 Drummer's Conclave at Jazz Forum, 648 Broadway, NYC
L-R: Jimmy Lovelace, Jo Jones, Jr., Art Lewis, Al Foster,
Leroy Williams, Philly Joe Jones, Jual Curtis (Photo by Mitchell Seidel, 1982)

Read "The Jazz Fly" with Jody
Follow the fly on a jazzy adventure! Jitterbugs educator Jody Ferber Redhage reads The Jazz Fly by Matthew Gollub, accompanied by her son Theo on drums.
Speaking of drums… here's an idea: Ask for your little one's assistance in the kitchen! Why not bake a musical cake together. And if you do, remember to share the delicious results with us.

Meet the Artist: Monty Alexander
"I never took it seriously, that it could've been a profession, but I was amazed"
– Monty Alexander
Read the full interview by Salina LeBris.

If you can buy a gift certificate or donate to Jazz Forum Arts, we would be very grateful. It will help ensure that we will reopen confidently when the restrictions are lifted.
You can also support us by sharing this blog with your friends and loved ones.
Share This Jazz Forum @ Home Post

This content is from our weekly Jazz Forum @ Home email series.
To receive these emails directly to your inbox, please subscribe below!
Don't miss any upcoming shows, offers or special events!