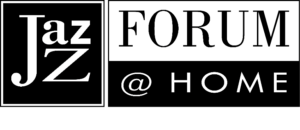 We're continuing to go live with our Jazz Forum @ Home weekly and free-of-charge Facebook Live Streaming series from artists' homes,  Saturdays at 7 pm EDT.

Paquito D'Rivera
Paquito D'Rivera performing at the Jazz Forum, recorded on May 17, 2019.
Featuring: Manuel Valera (Piano), Eric Doob (Drums), Diego Urcola (Trumpet, Valve Trombone) and Hamish Smith (Acoustic Bass).
Fostina Dixon
I've known Fostina for many years, and remember when she sat in with my group at an outdoor gig in NJ many moons ago. Dig her performance of "Vertical Alignment" with her group.
– Mark Morganelli
Daily Facebook Live Broadcasts

from artists Jazz Forum Arts has presented

I really got to know trumpeter Dean Pratt when he played lead in my rehearsal big band ('78-79) at 50 Cooper Square – even before I opened the Jazz Forum there. Dig these pictures of the Dean Pratt Big Band from their performance at the second Jazz Forum, 648 Broadway, NYC on July 11, 1982. Yep, that's drum legend Mel Lewis, hanging with Dean and the cats at the bar I built with my partner, Tony Giuliano! – Mark Morganelli

As many of you have children or grandchildren and are looking for activities to do at home, we're bringing Jitterbugs, our new kids program, home to you! We are sharing videos and activities to keep yourself and your children musically busy. Enjoy!
Come with us into the House of Sound to learn about how woodwind instruments make a sound.
Also, if you have any at home, this is the moment to try them out together!

Meet the Artist: Justin Kauflin
"It wasn't until I lost my sight that the piano became kind of the center of what I wanted to do."
– Justin Kauflin
Read the full interview by Salina LeBris.

Please donate to Jazz Forum Arts or become a member. Every little bit helps.
Your contributions ensure that the Jazz Forum will reopen as soon as the restrictions are lifted and that we will present our Free 2020 Summer Concerts.
No matter what, we will continue to bring the joy and sustenance of Jazz to everyone right here in Westchester!
You can also support us by sharing this blog with your friends and loved ones.
Share This Jazz Forum @ Home Post

This content is from our weekly Jazz Forum @ Home email series.
To receive these emails directly to your inbox, please subscribe below!
Don't miss any upcoming shows, offers or special events!