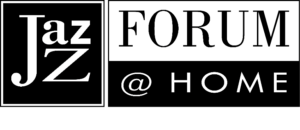 Ann Hampton Callaway Live
We're continuing to go live with our Jazz Forum @ Home weekly and free-of-charge Facebook Live Streaming series from artists' homes,  Saturdays at 7 pm EDT.
NEW: Text Jazz Forum to 33196 for a show reminder before we start!

Donald Harrison
Donald Harrison performing at the Jazz Forum, recorded on August 9, 2019. Stay tuned to the end of the video for a special appearance by The Fresh Prince of Tarrytown. Feat. Zaccai Curtis, piano, John Benitez, bass, and Joe Dyson, drums. 
Steve Allen live from Birdland with Count Basie
Donald Harrison shared this with me the other day and it knocked me out. Enjoy! (From 7/22/56)
– Mark Morganelli
(Almost) Daily Facebook Live Broadcasts

from artists Jazz Forum Arts has presented

Ellen Prior, Harvey Mason, Mark Morganelli, Bob James, Nathan East, Larry Carlton. Photo taken in front of the Fourplay Tour Bus, outside our concert at Tarrytown Music Hall, 2009. – Mark Morganelli

For parents, grandparents and caretakers who are at home with kids, Jitterbugs is here for you! We'll share videos and activities to keep you and your children musically busy. Enjoy!
Tune in to this saxolicious video to learn five interesting facts about jazz legend Charlie "Bird" Parker, presented by our Jitterbugs educator Juan Ruiz! Want to hear Charlie Parker play? Click here!

Want to hear Juan play some more tunes? Click here to see him perform "El Niño" in a from-home special, together with Diana Álvarez and Paquito D'Rivera!

Meet the Artist: Christian Sands
"Music is all about honesty and being who you are and being the best of who you are."
– Christian Sands
Read the full interview by Salina LeBris.

Please donate to Jazz Forum Arts or become a member. Every little bit helps.
Your contributions ensure that the Jazz Forum will reopen as soon as the restrictions are lifted and that we will present our Free 2020 Summer Concerts.
No matter what, we will continue to bring the joy and sustenance of Jazz to everyone right here in Westchester!
You can also support us by sharing this blog with your friends and loved ones.
Share This Jazz Forum @ Home Post

This content is from our weekly Jazz Forum @ Home email series.
To receive these emails directly to your inbox, please subscribe below!
Don't miss any upcoming shows, offers or special events!