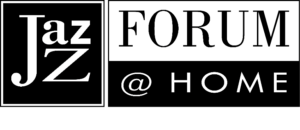 We're continuing to go live with our Jazz Forum @ Home weekly and free-of-charge Facebook Live Streaming series from artists' homes,  Saturdays at 7 pm EDT.
NEW: Text Jazz Forum to 33196 for a show reminder before we start!

Fred Hersch Trio
Fred Hersch performing at the Jazz Forum! Feat. John Hébert, bass and Eric McPherson, drums. 
Maynard Ferguson with Stan Kenton on The Ed Sullivan Show
(Almost) Daily Facebook Live Broadcasts

from artists Jazz Forum Arts has presented

Bill Hardman & Junior Cook Quintet featuring Walter Bishop, Jr. performed many times at both Jazz Forum lofts and I learned a great deal about music by listening, asking questions and (best of all) sitting in with them. These photos, by Mitchell Seidel were taken around 1979/80 at the first Jazz Forum, 50 Cooper Square, NYC.
– Mark Morganelli

For parents, grandparents and caretakers who are at home with kids, Jitterbugs is here for you! We'll share videos and activities to keep you and your children musically busy. Enjoy!
Charlie Parker played be bop...
… and it sounded like alphabet, chickadee, overshoes, reeti-footi! Follow along the book "Charlie Parker Played Be Bop" by Christopher Raschka, narrated by our very own Sara Langbert!
Like the book? Buy it here!

Meet the Artist: Tim Armacost
"My college teachers, Charlie and Bobby, helped me to find my way deeper into the music."
– Tim Armacost
Read the full interview by Salina LeBris.

Please contribute to Jazz Together, our emergency campaign to support the Jazz Forum, the 34 free outdoor summer concerts and our new Jitterbugs children's education program.
You can also support us by sharing this blog with your friends and loved ones.
Share This Jazz Forum @ Home Post

This content is from our weekly Jazz Forum @ Home email series.
To receive these emails directly to your inbox, please subscribe below!
Don't miss any upcoming shows, offers or special events!