Played at the club 11/09/18 and 11/10/18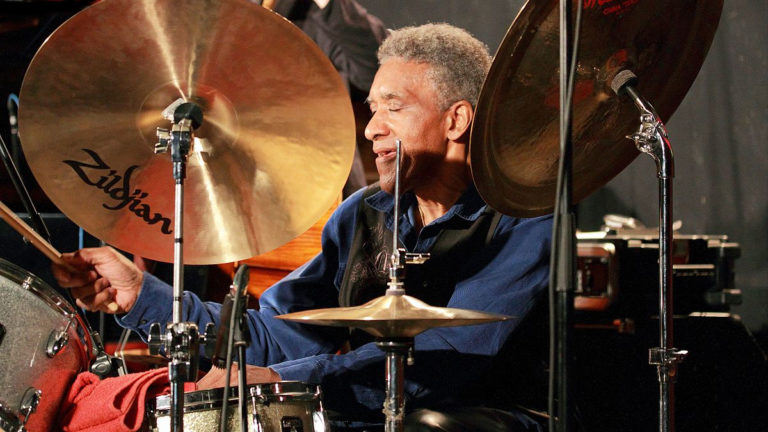 Al Foster (born January 18, 1944) is an American jazz drummer. He was born in Richmond, Virginia, grew up in New York and began playing drums at the age of 13.
How did you come to play the drums?
At three years old, I was banging on my mother's pots and pans. My great aunt bought me a practice pad when I was around maybe five, six or seven, and I was practicing all the time. My mother and father were into the swing era before bebop music — Benny Goodman, Gene Krupa — and that's the first drummer I heard because my father had records. My mother said when I was born on January 18, 1943, "Sing, Sing, Sing" was playing, which was a big hit; Gene Krupa and the first drum solo was on that record, and it was playing when I was born. When I got older, my father bought me a set of drums; I was ten years old. I played them for six months and then stopped. My mother's mother, my grandmother, told everybody that I told her, "I'm gonna practice when I'm ready."
Anyway, I heard "Cherokee" by Max Roach and Clifford Brown. I was 12, so I didn't practice from 10 to 12. I heard that record; it was modern jazz, and Max Roach, the great drummer, plays music on the drums. I didn't know you could make music on the drums, so after that, when I came home from school, every day I'd set up my drums and put my ear to the speaker to try to figure out what he was doing, and that's how it started. Then I got into Thelonious Monk and Miles — everybody. I've worked with those people. I never learned to read music, and can play a little piano, but I have to have somebody write the music and my songs out for me. I've been so blessed because I've played with everybody I fell in love with when I was a young teenager — Stan Getz, Sonny Rollins, Joe Henderson, Miles, Thelonious Monk, Cannonball Adderley. And more.
My idols were Sonny Rollins — he was so melodic on the saxophone — and Max Roach, of course. The music is old now, you know, the forties, fifties, sixties, and then it changed in the seventies, and I joined Miles. He told to buy Sly Stone, Jimi Hendrix, and Buddy Miles records. Buddy Miles was a drummer who was already famous. Miles used to say, "Buddy Miles has one beat, but Al, he plays the shit out of that beat!" So I had to learn that beat. Miles was too much, you know, but what a beautiful human being. He kept people away from him with his attitude, but he was the sweetest man — really — and I miss him so much.
I was with him for 13 years, '72 to '85, and then I left and joined Herbie, and Stan Getz. Miles called me in '89 to play on a record. And it was jazz — one jazz cut on the album that Marcus Miller wrote dedicated to Jaco Pastorius called, "Jaco." Wow, I got my "jane" playing with Miles with that hip, slick, beautiful tone he had. And then I played his last concert before he died — July 10th, 1991. He died September 28th. It was billed "Miles Davis and Friends," and it was Herbie Hancock, Chick Corea, and Joe Zawinul, three piano players; Wayne Shorter, Steve Grossman, Jackie McLean, sax players; John Scofield and John McLaughlin, two guitar players; and Dave Holland on bass and Darryl Jones on electric bass.
And I was the only drummer. Tony Williams, Jack DeJohnette, and Jimmy Cobb were living, and they made great records with Miles. And he called me. That was the most money I ever made for one hour. Really big money. I didn't know he was sick. I went to see him just before he died; flew out to LA. His nephew called me and said, "He's sick, Al. Not like before." My wife booked a flight for me, and I left the next morning and stayed a couple of days. I think he was in a coma. I'm not sure. He was tapping in my hand. I was holding his hand. When I walked in, the nurse said, "Oh, Miles. Your friend. He came all the way from New York to see you." He had tubes in his mouth, so he couldn't talk. Tears were coming down my face, and I said, "Miles, you have to get better. We have to play in New York next week." I wasn't even in his band. And that was it. He died a week later.
I was getting ready to go see him. I came back to LA to play with Sonny Rollins and was going back to New York, and the plane was late, so I said I should go see Miles because the hospital wasn't that far from the airport. But I didn't go.
When I got home, my daughter told me that she had heard on the radio that Miles had just died. I hated myself for not going. It was early in the morning, but he had died, and I was in LA on the 28th of September. I loved him so much. Another thing that people don't know is that I raised four kids, four daughters, by myself, and I told Miles six months after I joined him, and he asked me to bring them in; maybe he didn't believe me.
I took them up there one Sunday a couple of weeks after I had told him, and a few months after that, he said that when we're not working, for me to go up to management. This is the God's honest truth. When I wasn't working, I went to pick up a check for $200 every week of the month. If I was off three months, four months, I got $800 a month, for real, and he never said that he was trying to help me with my daughters, but I felt that. So he wasn't like his image, being mean, cursing at people, even punching people.
You know, he was little, and he studied boxing. For real. But he was the hippest trumpet player EVER because I haven't heard anybody with that kind of taste. Cool, you know. He would take his time. He knew I didn't like playing the back beat. I was nervous for the first few years, but after I got to know him, I would say, " Miles, why don't we play some tunes with changes, you know, not just a damn one cord. Miles would say, "Don't worry about the changes, worry about the drums." After that, I kept my mouth shut, you know, but he said everything so cool. Never in anger. Even when he's mad, he's cool. I respect that because I can lose my temper. I grew up in Harlem and can act like a fool and regret it the next day. But he was always cool. One of a kind.
What would you like to say to your fans?
Before I say that, I would like to say what I feel about being fortunate to play music and about being successful. It's a gift to me, and like tonight, it was a good show to people. And as musicians, we make people forget their problems for one hour, an hour and a half or whatever. And, in return, I'm forgetting all my problems. I want to thank my fans for supporting me. I'm glad I'm able to make them very happy, and in return, I'm very happy for however long the set is. We all have daily problems in life, you know. Us musicians are the same as our fans.
What do you think about the club?
I've worked at the Jazz Forum club in New York in the 70s and 80s, and that was like a dump; it was actually a loft. My first time in this club was last night. I told them [Mark and Ellen] that it's great. The sound is great. It's really a great club.