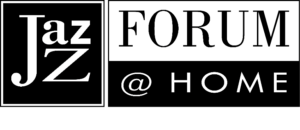 Paul Meyers via Facebook Live
We're continuing to go live with our Jazz Forum @ Home weekly and free-of-charge Facebook Live streaming series from artists' homes,  Saturdays at 7 pm EDT.

Paquito D'Rivera
May 17, 2019, Paquito D'Rivera Quintet plus special guests Edmar and Zamir Castaneda. Credit Michael Kelly


Remembering Jimmy Lovelace, friend and great drummer who used to play for Barry Harris's workshops at the Jazz Forum (early '80's). Lace was one cool cat!  He could also swing his butt off! He played on a great album with flutist Prince Lasha that also featured Herbie Hancock & Cecil McBee. We did a gig together once at Citicorp Center Atrium, NYC around 1980 and he absolutely burned on Caravan. Lace is also remembered for his loose joints and somali rose oil – "Thank You, My Friend!" (Photos by Mitchell Seidel)
– Mark Morganelli

Bringing Jitterbugs Jazz Classes to Your Living Room via Zoom!
For families who are at home with kids, Jitterbugs is here for you! This week we are excited to announce Jitterbugs @ Home to keep your children musically busy.
For safety reasons, we'll only provide the live video link and password to people signed up for the class.

Contribute to Jazz Together, our emergency campaign to support the Jazz Forum, the 34 free outdoor summer concerts and the Jitterbugs children's education program.
You can also support us by sharing this blog with your friends and loved ones.
Share This Jazz Forum @ Home Post

This content is from our weekly Jazz Forum @ Home email series.
To receive these emails directly to your inbox, please subscribe below!
Don't miss any upcoming shows, offers or special events!