Julius Rodriguez, Jonathan Barber, Giveton Gelin and Morgan Guerin played at the club 01/19/18 and 01/20/18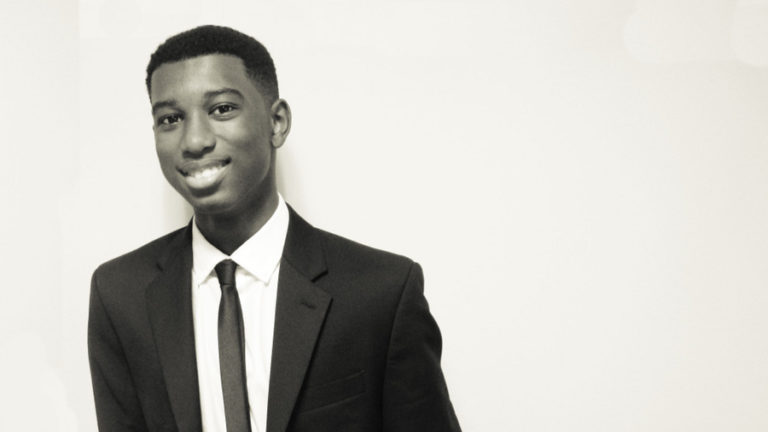 An all-star quintet of young lions brings you the fresh sound of jazz's up and coming talents. The leader and Westchester native Julius Rodriguez has already been making a name for himself in the New York City jazz scene.
So, 

Julius Rodriguez, you know the Jazz Forum club owners Mark and Ellen?

Yes, I've known them for 10 years. And they have got a very homey feeling here at the club. Super comfortable. I love coming here.
What does it feel like, the difference between playing in their home and playing in their club?
I've always felt officially part of what they're doing and now, I don't know how to describe it. I knew that they used to run a club in the city and here, I feel like I'm sort of a part of the legacy they brought to jazz itself. Into bringing jazz to Westchester and promoting music and everything.
Let's bring in the rest of the quintet! What should your fans know about you?
Jonathan Barber (drums): And what I want my fans to understand is that I am constantly pushing forward and trying to push this music forward. I'm a firm believer in improvisation music and how it could change the world and how it inspires lives and gives everyone hope and just brings everyone together.
And with my music, with my drumming, I plan or hope to bring that level of excitement and vision to create and inspire more reliving in 2018 and I hope that I could have my thumbprint with this music. And, in this club, it's great. Mark and Ellen are very warm… It's my first time meeting them and I instantly felt like Julius said, a home feeling and I was very comfortable and the people were great. And I'm looking forward to playing more here. 
Photo above from the live show. From the left: Julius Rodriguez, piano, Giveton Gelin, trumpet, Daryl Johns, bass, Morgan Guerin, sax, Jonathan Barber, drums.
Giveton Gelin (trumpet): What I want my fans to know about me is that I just want to reach to them in the most human way possible. And I want the music that I'm putting out there to relate to it in some way. Whether it's the love that's in it or the beat that's in it or the ugly that's in it, whatever that is. You know. That human quality. That's what I want them to search for in the music that I'm playing and the music that I'm producing.
I love this club. First time here as well. I love it. The sound has been great. The people are amazing. When you have something like this, it's great because of all the energy here. It's a perfect environment to grow as a player. So yeah, I'm happy to be here.
Morgan Guerin (saxophone and drums): First of all, it's a great club. Amazing people here. I've met so many amazing people here. It's my first time here in Tarrytown, in general, and here at the Jazz Forum.
What I want people to know about me is that I'm a very in-the-moment person, and as a musician, we're all constantly growing and evolving musically and non-musically as well. And there's also so much in life that doesn't have to do with music that can benefit the music in a way. An overwhelming amount of music isn't good, but to be able to play as much as possible is very great and to be able to play with my peers and people I look up to.
Being my age, like this group, or being a few years older than me like the drummer in this group, it's great. I mean I love them all. And like I said, I'm a very in-the-moment type of person. I'm very spontaneous and whatever music I want to put out is what I meant in that moment and it's very honest. I want people to know that I'm a very honest person and very short-spoken with words; I would rather express myself with my instrument.
It's also fun to play without microphones because there's nothing hiding what's coming out your horn. A microphone can do one of two things. It can amplify your sound or it can hide your imperfections because the front-of-house engineer can do so much to make you sound better.
And you know, this music is improvisation… and jazz… and all this stuff in general. It's very in the moment. It's very personal and to play without microphones, you hear what's coming directly from our hearts. It's also cool to have the audience members pretty close to the stage. They can feel what we're giving off. I love playing without microphones. I love being able to have the musical conversation with the audience being a couple feet away. I can't complain. We have three more sets. It's going to be fun.
Daryl Johns (bass among other instruments): I think the Jazz Forum is great and cool. And I want my fans to know that I'm coming out with an album!