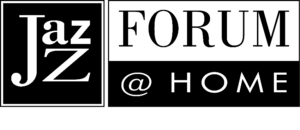 We're continuing to go live with our Jazz Forum @ Home weekly and free-of-charge Facebook Live Streaming series from artists' homes,  Saturdays at 7 pm EDT.
NEW: Text Jazz Forum to 33196 for a show reminder before we start!

Wynton Marsalis sitting in with Philly Joe Jones Quartet
@ Jazz Forum, 1982 Wow! I'd heard about this "bootleg" film clip but had never seen it until this week. Enjoy an albeit poor-quality near-forty-year-old capture of some of the "magic" that happened much of the time at the second Jazz Forum loft/club, 648 Broadway at Bleecker St. (5th Floor). Here's part of an amazing 1982 1am set when Wynton Marsalis, then 21 sat in with the Philly Joe Jones Quartet featuring Charles Davis, Walter Davis, Jr. & Larry Ridley. – Mark Morganelli

For families who are at home with kids, Jitterbugs is here for you! This week we are excited to announce Jitterbugs @ Home to keep your children musically busy.

We Are Bringing Jitterbugs to Your Living Room via Zoom!
Jitterbugs is going online! We are happy to present Jitterbugs @ Home, an interactive jazz class presented virtually via Zoom for families with kids ages 2-7! Jitterbugs @ Home will be hosted by our educators Juan and Jody who will lead the children through interactive music games. Your children will get to know Jazz through storytelling, music and playing.


For safety reasons, we'll only provide the live video link and password to people signed up for the class.

Dexter Gordon, 1982 LTD (Long Tall Dexter) graced us with his incredible artistry at the second Jazz Forum, 648 Broadway – sitting in with the Bill Hardman/Junior Cook Quintet. Dexter, pictured here with bassist Paul Brown (right). Photos by Mitchell Seidel. – Mark Morganelli

Please contribute to Jazz Together, our emergency campaign to support the Jazz Forum, the 34 free outdoor summer concerts and our new Jitterbugs children's education program.
You can also support us by sharing this blog with your friends and loved ones.
Share This Jazz Forum @ Home Post

This content is from our weekly Jazz Forum @ Home email series.
To receive these emails directly to your inbox, please subscribe below!