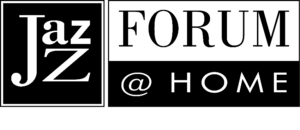 We're continuing to go live with our Jazz Forum @ Home weekly and free-of-charge Facebook Live streaming series from artists' homes,  Saturdays at 7 pm EDT.

Jammin´ The Blues (1944)
Jammin' the Blues is a 1944 American short film in which several prominent jazz musicians got together for a rare filmed jam session. It features Lester Young, Red Callender, Harry Edison, Marlowe Morris, Sid Catlett, Barney Kessel, Jo Jones, John Simmons, Illinois Jacquet, Marie Bryant and Archie Savage.


30 Years Ago, Red Rodney and his Quintet performed at the W. 79th St. Rotunda for Jazz Forum Arts' Riverside Park Arts Festival, featuring Chris Potter, Garry Dial, Jay Anderson & Jimmy Madison.
– Mark Morganelli

We're Bringing the Jitterbugs Classes to You via Zoom!
For families who are at home with kids, Jitterbugs is here for you! This week we are excited to announce Jitterbugs @ Home to keep your children musically busy.
For safety reasons, we'll only provide the live video link and password to people signed up for the class.
Contribute to Jazz Together, our emergency campaign to support the Jazz Forum, the 34 free outdoor summer concerts and the Jitterbugs children's education program.
You can also support us by sharing this blog with your friends and loved ones.
Share This Jazz Forum @ Home Post

This content is from our weekly Jazz Forum @ Home email series.
To receive these emails directly to your inbox, please subscribe below!