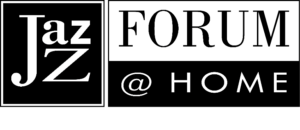 We're continuing to go live with our Jazz Forum @ Home weekly and free-of-charge Facebook Live streaming series from artists' homes,  Saturdays at 7 pm EDT.


I'm honored to have presented George Russell's Living Time Orchestra, down from Boston to play at the Entermedia Theatre (old Yiddish Art Theatre), 12th St. & 2nd Ave. in Nov., 1983. Thanks to Marty & Helene Khan of Outward Visions, Con Edison & Meet The Composer for helping to make this happen.
– Mark Morganelli

We're Bringing the Jitterbugs Classes to You via Zoom!
For families who are at home with kids, Jitterbugs is here for you! This week we are excited to announce Jitterbugs @ Home to keep your children musically busy.
For safety reasons, we'll only provide the live video link and password to people signed up for the class.

Contribute to Jazz Together, our emergency campaign to support the Jazz Forum, the 34 free outdoor summer concerts and the Jitterbugs children's education program.
You can also support us by sharing this blog with your friends and loved ones.
Share This Jazz Forum @ Home Post

This content is from our weekly Jazz Forum @ Home email series.
To receive these emails directly to your inbox, please subscribe below!
Don't miss any upcoming shows, offers or special events!